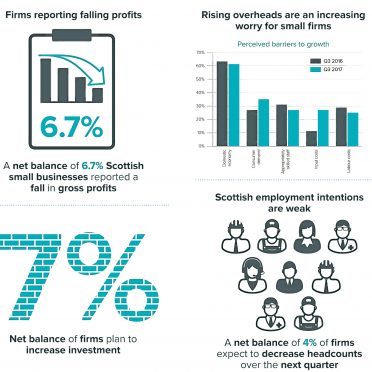 Confidence among Scotland's small business owners has plummeted over the past three months and is lagging behind the rest of the UK, according to new figures published today.
A combination of factors, including rising overheads, concerns over Brexit and the weakness of sterling, have been blamed for the pessimism of entrepreneurs north of the border by the Federation of Small Businesses (FSB), which carried out the research.
And the organisation warned that with increases in expenses such the minimum wage and auto-enrolment pensions ahead, it can see few reasons for rising optimism.
The FSB's latest quarterly index showed business confidence in Scotland has plunged more than 11 points to minus 15.2 points in the last three months. Over the same period, the equivalent UK figure dropped 13.9 points to plus one point.
FSB Scottish policy convenor Andy Willox said: "Businesses in Scotland have been pessimistic about prospects for the last seven quarters.
"While we saw a slight uptick earlier this year, this quarter business confidence in Scotland, and across the UK, has taken a hit."
Mr Willox said he believed nervousness over Brexit was a major factor in the latest figures.
He added: "It's been a rough road for us. Fuel has just gone up in price and the cost of doing business has been increasing over the last two years. Increases in the minimum wage and the introduction of auto-enrolment have added to that.
"It is the cumulative effect of these and other factors that have been reflected in these figures. I don't think it is going to get any better, with rises in the minimum wage and auto-enrolment contributions coming."
The FSB found a net balance of 6.7% of smaller firms in Scotland reporting a fall in gross profits, with a higher proportion warning that input costs, such as the price of raw materials, were a barrier to growth.
"The depreciation of sterling is still having a big impact on those firms which import goods or services, or who are part of international supply chains," Mr Willox said.
Despite the lack of optimism, a net balance of 7% of small businesses in Scotland planned to increase their investment in the next quarter, up from 6% earlier in the year.
One-fifth of companies reported that export values had fallen and 5% expected the value of their overseas sales to rise in coming months.
Mr Willox said small firms would be looking to the chancellor to "extend a lifeline" in his Autumn Budget. "In such a difficult trading environment, new tax grabs and loss of reliefs for entrepreneurs will exacerbate existing challenges," he added.