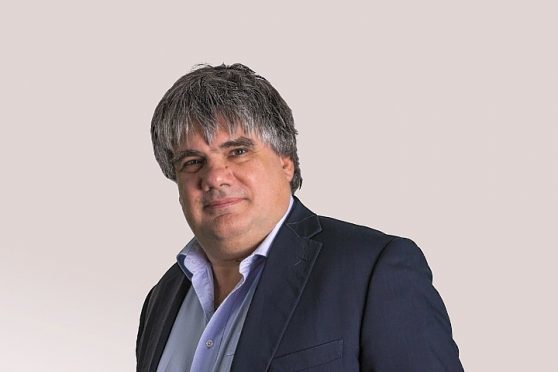 Wildlife lover and businessman Ian Marchant will swing his way Tarzan-like into the president's chair at the Royal Zoological Society of Scotland next month.
And in a separate new appointment, Aberdeen accountancy firm Hutcheon Mearns has brought in a new partner to help take the company forward.
The zoological society, which owns Edinburgh Zoo and the Highland Wildlife Park near Aviemore, said Mr Marchant was a longstanding member and strong supporter of conservation.
The new role is in addition to the posts Mr Marchant holds at several businesses and charities.
Mr Marchant is chairman of Aberdeen oil service firm Wood Group and cancer care charity Maggie's, non-executive director of temporary power company Aggreko, and non-executive chairman of tidal energy development Nova Innovation.
Mr Marchant, who was chief executive of SSE for 10 years, is also an advisor to energy companies and universities.
He will replace John Spence, who is standing down after a decade as society president.
RZSS chairman Jeremy Peat said: "RZSS is exceptionally fortunate to welcome Ian. His broad-based experience will add huge value to the society and we all look forward to working with him."
Mr Marchant said: "I feel both honoured and privileged to be asked to act as president of RZSS. The issues of wildlife conservation and education have always been close to my heart and I will be incredibly fortunate to be able to play a part in such a great organisation."
Meanwhile, the founding partners of Hutcheon Mearns said they were delighted to have secured the services of Andrew Ferguson, who most recently worked as a director at recruitment firm Eden Scott.
Steven Mearns said: "In less than a year Hutcheon Mearns has grown dramatically, from just the two of us last May to a team of seven now.
"The appointment of Andrew Ferguson as a partner with our firm is the realisation of our vision to share the ownership of Hutcheon Mearns with the very best people in the industry."
Craig Hutcheon added: "Andrew's experience and network is the perfect complement to our team of qualified accounting professionals offering temporary, project based or permanent resource solutions to the north-east economy."
Mr Ferguson, who won the Rising Star Award at the Northern Star Business Award in 2014 for his contributions to Eden Scott, said: "I look forward to joining Steven, Craig and the wider team as we continue to expand our offering across the local economy."