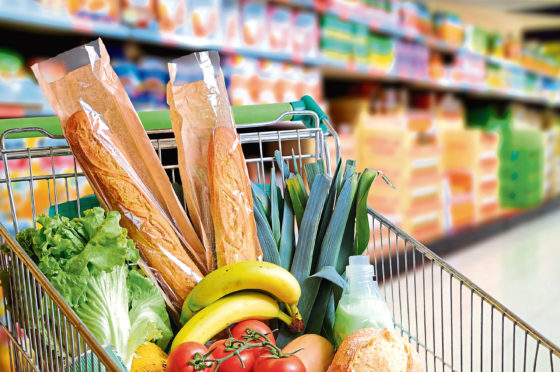 Keeping shelves stocked at the 200-plus Tesco stores across Scotland is not an easy task.
The average shopper will have no idea just how much work goes into making sure their favourite foods and other items are available.
The supermarket giant's shops sell some 1,500 lines from suppliers across Scotland.
James Lamont, buying manager in Tesco's local sourcing team, said: "In the north-east, we have a long-standing partnership with ice–cream maker Mackie's of Scotland to supply our stores throughout the UK.
"At the same time Orkney's Crantit Dairy is exclusively stocked in our Kirkwall superstore, and kiln-smoked salmon specialist John Ross Jr in Aberdeen, also supplies some of Tesco's Scottish stores.
"Every supplier partnership is different and, no matter how big or small in scale, they're equally important to our customers and to us."
Supporting these suppliers are key Tesco colleagues like stock manager Piera Thistlethwaite, who is tasked with maintaining the fresh food supply to Tesco's 120 large and 90 small stores north of the border.
Piera said: "I help with day-to-day queries from Scottish suppliers – relationships which go back decades in some cases.
"Around key holidays and calendar dates, upping regular stock quantities requires a lot of forward-planning and suppliers can require additional support.
"To put it in perspective, over the Burns Night period alone we require more than 100 tonnes of haggis products. And we sell 750,000 white puddings each year from Speyside Specialities in Buckie, with huge demand to meet over Christmas.
"In extreme weather, our local suppliers go above and beyond to provide surplus stock to our remote stores, when other deliveries can't get through."
Tesco also offers an incubator programme to help its suppliers grow their businesses.
As well as ensuring customers have uninterrupted access to their favourite products, an important reason for accurate stock forecasting in the supply chain is to minimise waste.
Tesco commissions regular customer insight reports and surveys, as well as taking on board customer feedback via its suppliers and its customer engagement centre in Dundee to better understand shoppers' evolving needs.
Its data often throws up interesting insights, including that more than two million bottles of Macduff-based Macb water is sold in Tesco in Scotland each year and its best-selling ready meal north of the border is the 250g macaroni cheese from Forfar's McIntosh of Strathmore.
Any surplus food is offered to a range of local charities and community groups through Tesco's Community Food Connection scheme, run in conjunction with food charity FareShare.
Piera added: "Reducing waste is a key aspect of our job.
"As well as the quantities of products, we also consider the distance they travel to get to stores."