Teachers from the country's largest union have voted overwhelmingly to accept the Government's latest pay offer
The offer will give them a 14.6% pay rise over 28 months.
It proposal involves a 7% rise backdated to last April, a further 5% this April and another 2% in January.
Andrea Bradley, the general secretary of the Educational Institute of Scotland (EIS) – the largest union – announced on Friday that members turned out in force to accept the offer.
In a Tweet shortly after the votes were tallied, EIS made it clear that this signalled the end of their industrial action.
STOP PRESS: CONSULTATIVE BALLOT RESULT on SNCT PAY OFFER:

Accept: 90%
Reject: 10%
Turnout: 82%

Pay offer will be accepted.

All strike action in pursuit of an improved teachers' pay offer cancelled.

An email with more info will go to members ASAP.

— EIS (@EISUnion) March 10, 2023
With an 82% turnout, members voted 90% in favour of accepting the new offer.
Earlier on Thursday, the Scottish Secondary Teacher's Association (SSTA) announced that its members were accepting the pay offer as well.
NASUWT announced on Monday March 14 that a slim majority of its members voted in favour of accepting the pay deal (the vote was 52% in favour, 48% against).
As of Monday afternoon, the NASUWT has said that it remains in dispute with the Scottish Government.
Length of dispute is 'deeply regrettable'
Ms Bradley called it the best deal that teachers could realistically expect.
"EIS members have taken a pragmatic decision in voting to accept the current pay offer.
"While it does not meet our aspirations in respect of a restorative pay settlement for Scotland's teachers, it is the best deal that can realistically be achieved in the current political and financial climate without further prolonged industrial action."
Ms Bradley continued: "It is deeply regrettable that it took a sustained industrial dispute, and the first programme of national strike action on pay by teachers in forty years, for the Scottish Government and COSLA to finally come up with an acceptable pay offer for Scotland's hard-working teaching professionals.
"Scotland's pupils, parents and teachers deserve better, and the Scottish Government and Scotland's local authorities must commit to ensuring that education is properly funded, and that teachers are fairly paid, in all future years in order that Scottish Education can provide as it should for our young people and for the good of our whole society."
School year plagued by strikes
Following a school year plagued by teacher strikes, the acceptance of the new offer comes on the cusp of what would have been the most disruptive period of strikes so far. The EIS had planned another 20 days of rolling strike action across the country between March 13 and April 21.
Now that the pay offer has been accepted, it means schools will avoid a set of industrial action that was set to begin in Highland Council on March 15, and end in Aberdeen City on March 28:
The EIS covers 80% of Scotland's teaching workforce. Each time the union has gone on strike it has been enough to close schools.
The teacher pay dispute has dragged on for more than a year now, and industrial action has been causing significant disruption to class time since November 2022. When we asked readers and parents last year how they felt about the teacher strikes, many were supportive.
But a poll by The P&J conducted last week suggested that patience among parents was wearing thin.
The decision to accept the latest offer comes after months of contentious negotiations and rejected deals. Unions rejected two previous offers from the Scottish Government, submitted in November and February.
Each time, the EIS cited concerns that the pay offer discriminated between experience and pay levels, and did not meet the overarching demand for a 10% increase.
How did we get here?
November 24 teacher strikes closed almost every school in Scotland
Unions, employers and the Scottish Government have been battling over pay since December 2020.
In November 2022, the Scottish Government proposed a staggered pay rise linked to teachers' current pay grade, but union leaders rejected the offer.
That's why, on November 24, EIS called out its more than 55,000 members and closed schools across the country. It was the first major teacher strike over pay since the 1980s.
The teachers who joined picket lines and mass demonstrations in Aberdeen and Inverness said they were left with no choice.
SSTA and NASUWT joined strikes in December
Following the large turnout and massive disruption caused by the EIS walkouts, the Scottish Secondary Teacher's Association (SSTA) and NASUWT called out their members over two days in December. Strikes were staggered, with local authorities striking on different days.
SSTA and NASUWT membership is not as widespread as the EIS.
That means membership numbers vary widely at every school. For the most part, councils took a school-by-school approach. Some schools were closed completely, with others left open to senior-phase students where possible.
Two days of closures started the January term
Then, on January 10 and 11, Scotland's major teaching unions called members out on strike.
The EIS and the NASUWT called out all primary teachers on strike on January 10.
EIS membership is widespread, including more than 55,000 teachers and approximately 80% of Scotland's teacher workforce.
SSTA members joined EIS and NASUWT secondary teachers for a second day of strike action on January 11.
Teachers gathered in front of schools across the north and north-east to make their voices heard.
What happened in the most recent phase of teacher strikes?
The EIS last held staggered strikes over the course of 16 days in January and February.
Here's how they played out around the country: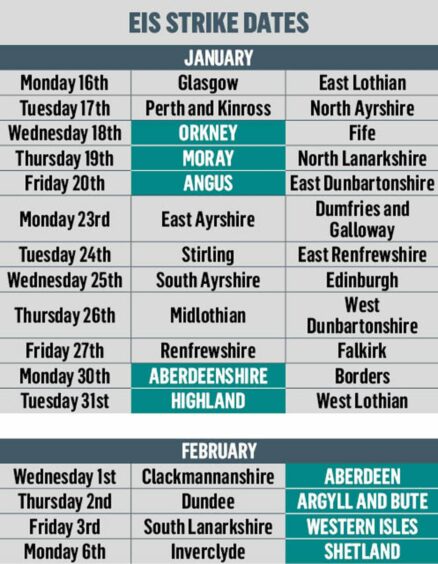 Teacher strikes because of pupil violence: What's next for Northfield Academy?
Aberdeen's Northfield Academy entered the spotlight after a surprising vote by EIS members to back strike action at the school.
The union is claiming that its members aren't being properly protected from violent pupils, a situation that prompted First Minister Nicola Sturgeon to get in touch with employers about how teachers should be protected.
There have recently been reports of growing concern over pupil violence in the city, and at Northfield in particular. But a leaked council report shed a different light on the situation at Northfield. It suggested the union's preferred action might violate pupil rights.
The union has yet to announce any firm plans. They are obligated to give at least 14 days' notice before any industrial action.
---
This story was updated on March 14 2023. It will be continually updated with the latest on teacher strikes across the north and north-east of Scotland.