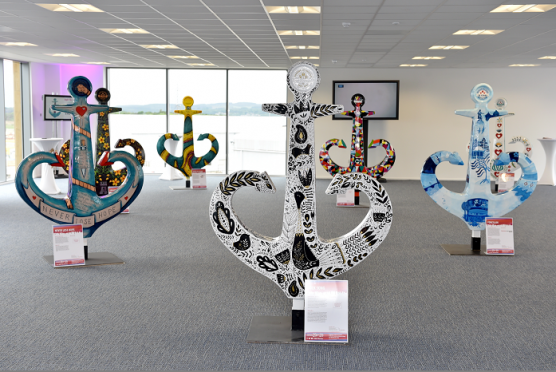 A set of 20 spectacularly decorated anchors were revealed for the first time last night at an exclusive preview of north-east cancer charity Friends of Anchor's 20th anniversary campaign.
Artists, sponsors and medical chiefs were invited to see the collection before they go on public display from July 1 until the end of October in iconic sites across the north-east, Moray, Shetland and Orkney.
A total of 20 talented artists were invited to take part in the project, and they all showcased their designs.
Over the course of the campaign, local businesses and groups have been invited to sponsor the anchors, and once the project is complete, they will all be auctioned off to raise as much cash for the charity as possible.
Friends of Anchor has pledged to give £1million to Aberdeen University's ambitious £4.5m project to attract and recruit a world-class cancer research team to the north-east.
Guests included artist Howard Butterworth, the Lord Provost of Aberdeen Barney Crockett, the Friends of Anchor chairman Jim Milne, and the head of Aberdeen University's school of medicine, Professor Steve Heys.
Mr Milne said: "The preview event has been a fantastic occasion for the sponsors to see the anchors up close for the first time and meet the artists responsible for these beautiful works of art.
"The effort and craftsmanship that has gone into each of the anchors is truly remarkable.
"Many of the artists shared their personal affiliation to the charity and the cause as the inspiration behind their contribution."
Prof Heys added: "The support of Friends of Anchor is second to none, and will be pivotal in helping us achieve our goal of establishing Aberdeen as a centre for world-class cancer research.
"Such a centre will enable the university and NHS Grampian to attract and retain first-class academic and clinical staff, and so contribute to clinical excellence through patient care and participation in clinical trials.
"Partnership with Friends of Anchor in such a vital area is a major driver for success and the results of our joint endeavour will be of immense benefit to the local community and beyond for many years."
To find out more, visit www.friendsofanchor20for20.org