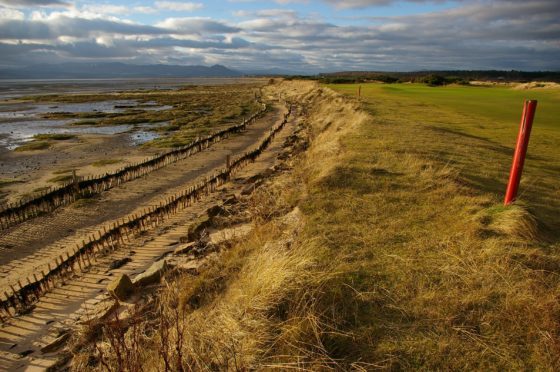 A world-renowned golf club in the north is relying on nature to hold back the tide to prevent their fairway from washing away.
The 10th hole of the Royal Dornoch Golf Club's Struie Course has become susceptible to flooding after a number of gaps began appearing in the saltmarsh habitat.
Now a new project, beginning next month, aims to transplant hundreds of greenhouse-grown native saltmarsh plants to help restore their natural defences and prevent it being washed away.
Neil Hampton, Royal Dornoch's General Manager, said: "In 2010 we noticed a gap appearing in the saltmarsh affecting the 10th hole. If nothing was done we could have lost the whole fairway.
"We tried a number of methods to break the power of the waves, but when we learned of Dr Maynard's work we decided it was the best way to tackle this potentially serious issue.
"It's a natural solution and it involves the local schools and other local people, so it fits well with our commitment to the environment and the community."
The project is being managed by Dr Clare Maynard, a research scientist at St Andrews University and Chair of the Marine Alliance for Science and Technology (MASTS) Coastal Forum.
Each plant, around 5cm in diameter, will be planted into the sand, supported by bio-rolls filled with coir – a waste product made from husk of coconut shells – to help act as wave breaker.
The club, formed in 1877, is providing £10,000 a year for three years towards the project to help safeguard the 10th fairway.
Dr Maynard said: "Coastal erosion is at its worst at the gap in the protective saltmarsh. There are flooding issues in the winter as well as year-round energy from waves degrading the edge of the course.
"We will fill in the gaps with saltmarsh transplants to provide a soft engineering solution to this problem in a way that is good for everyone as it helps the environment and there is no need for an expensive sea wall.
"It's a long-term process, not a quick fix, and while we cannot stop the sea, we can buy time for the golf course simply by having more naturally robust habitats in front of the course."