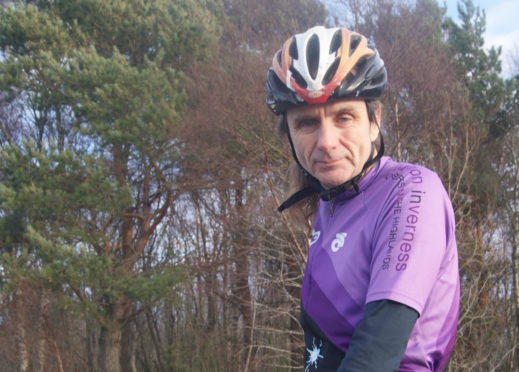 A cancer victim is set to defy the odds this April by taking part in the Etape Loch Ness sportive after medical professionals feared he would not be alive to see this year's event.
Nigel Shaddick was diagnosed with mesothelioma, thought to be brought about through exposure to asbestos, with medics giving the Culloden man only 12 months to live back in July 2017.
The 51-year-old took matters into his own hands, sourcing a pioneering trial treatment at Edinburgh University.
---
>> Keep up to date with the latest news with The P&J newsletter
---
His latest scans have shown the cancer to be receding, leaving doctors amazed.
Mr Shaddick said: "I was devastated to be told that I would have 12 months to live, maybe 18 with chemotherapy.
"I learned about clinical trials for immunotherapy in Edinburgh and put myself forward for them and for that I am really glad. I would not be here today if I had just left it.
"I started in July 2017 with rapidly accelerating stage three cancer, but within two months the tumour had reduced."
Despite nearly two years passing since his deadly diagnosis, Mr Shaddick still makes fortnightly visits to Edinburgh for the groundbreaking treatment that has so far prolonged his life.
He has refused to allow the illness get the better of him and has devoted much of his time and efforts to keep on top of his physical fitness, including getting out on his bicycle as much as time allowed.
Now, Mr Shaddick is set to take on the 66-mile sportive for the third time, taking in some of Scotland's most stunning scenery.
He added: "Endurance sports were my hobby, and I'd done Iron Man, ultra-marathon running and I'd always been fit and healthy. I cycle every day and my symptoms are at bay so I just have to wait and see.
"I'll never be able to compete like I used to but now it's more about living life, being as fit as I can and also helping raise funds to find a cure for mesothelioma.
"There's too much negativity around it, so this is about trying to be positive and placing a focus on research to find a cure for the disease.
"When people are diagnosed with cancer, they may feel like they are just clutching at straws, like I did. But my experience shows, never give up hope."
Around 5,600 riders are set to take on the famed event this April with entry for the Etape selling out just a mere few hours after going on sale.
A limited number of places remain for riders who pledge to raise a minimum of £100 for official charity partner, Macmillan Cancer Support.