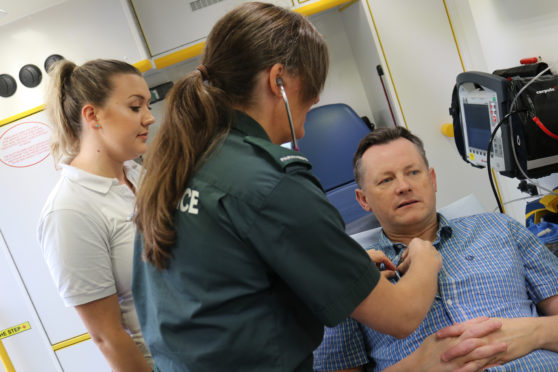 The number of paramedics working in the north and north-east could soon be bolstered following the roll-out of a new university course.
The Robert Gordon University in Aberdeen will launch a paramedic undergraduate course next year.
Concerns have repeatedly been raised about the shortage of ambulance cover in Grampian and the Highlands, with under-pressure staff drafted in to cover for colleagues as they transfer patients elsewhere or sick leave.
RGU's new BSc paramedic practice will tackle that, giving students access to localised education and training opportunities, while addressing the requirement for registering as a paramedic through the Health Care Professions Council (HCPC).
Principal Professor John Harper said: "It is a great privilege to be selected to provide this course in Scotland, adding to our proud history of quality healthcare education which addresses national skills needs.
"By widening geographical access to the BSc in paramedic practice, we are increasing opportunities for students to learn the highly-specialised skills and knowledge required to treat more patients with complex needs both in and out of the hospital environment."
Currently all students in Scotland study paramedic science/practice at the Scottish Ambulance Academy (SAA) at Glasgow Caledonian University with entry to the HCPC register at diploma level.
However from September 2021 all new paramedic students will need to achieve a bachelor's degree to become a registered paramedic.
Professor Ian Murray, head of the school of nursing and midwifery at RGU, said: "We will be working in partnership with the Scottish Ambulance Service (SAS) to develop the new course and train the future paramedics of Scotland.
"The two contracts awarded will involve a minimum of 40 students per year and will significantly increase the reach of our demand-led teaching."
Four other providers successfully bid to bring paramedic undergraduate education to their institutions, but RGU was the only university to successfully win contracts for two regions: Grampian and the Highland and Islands.
Pauline Howie, SAS chief executive said: "We are absolutely delighted to work in partnership with these universities. It is exciting to know they will be educating new generations of paramedics who will enter the workforce armed with the latest skills and trained to the highest standards.
"These changes not only increase our capacity for training more paramedics, helping us meet predictions for future demands of patients, but they support the delivery of integrated health and social care."