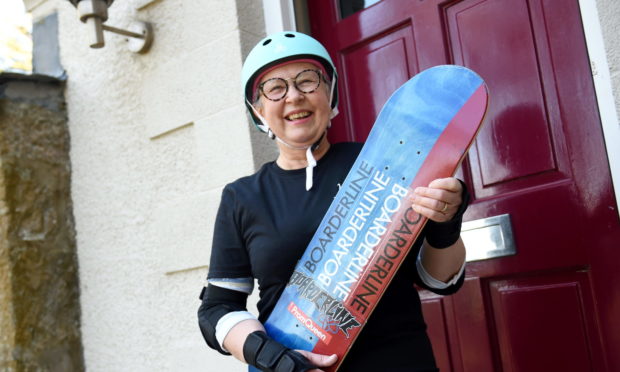 A granny is ramping up preparations to pull off a difficult skateboarding trick after being diagnosed with breast cancer.
Elaine Shallcross will take on the unusual challenge of learning how to perform a "shuvit" in time for her 69th birthday in July, after a suggestion from her son-in-law Steven Davidson, a passionate skateboarder.
The manoeuvre she hopes to pull off involves spinning the board 180 degrees under her feet without letting it hit the ground.
So far, her "Shuvit cancer" fundraising crusade has generated more than £14,000 to aid the work of Aberdeen University's Valerie Speirs, an oncology professor pioneering research into breast cancer.
And her efforts have gained her almost 50,000 fans online, including backing from skateboarding legends such as Tony Hawk, who filmed his own shuvit and encouraged his more than four million followers to donate.
This shove-it variation (360 shuv to blunt fakie) is for Elaine Shallcross, who is battling breast cancer and wants to learn to shove-it on a skateboard by her 69th birthday. Good luck Elaine! And thanks for raising awareness through skateboarding.
Donate: https://t.co/pma1SzJvuO pic.twitter.com/hqNy7Z7iAs

— Tony Hawk (@tonyhawk) February 15, 2020
Mrs Shallcross said: "I was diagnosed in 2018, and started fundraising a month or two after that by making beanies and selling them, and taking part in the Kiltwalk, but at Christmas I asked my family if they had any ideas for a different fundraiser and my son-in-law Steven suggested I learn a trick.
"I thought I'd give it a go, and we came up with the idea of doing a shuvit as a way of telling cancer to shove it.
"The outpouring of support from everyone and the worldwide skateboarding community has just been unreal, the response has been absolutely incredible.
"We're just receiving thousands and thousands of messages of support, I've got three members of my family helping out to respond to them all.
"I've had really elite skateboarders like Tony Hawk and Daewon Song sharing my campaign with millions of supporters, and on the other end I've had little kids sending me videos of them doing shuvits and donating their pocket money."
Mrs Shallcross has been actively practising the tricky manoeuvre despite undergoing gruelling chemotherapy for her cancer.
And the fact she has never stood on a skateboard before is presenting another challenge.
But although she's had a few bruises from falls during her training, she hopes to pull off a shuvit on July 10.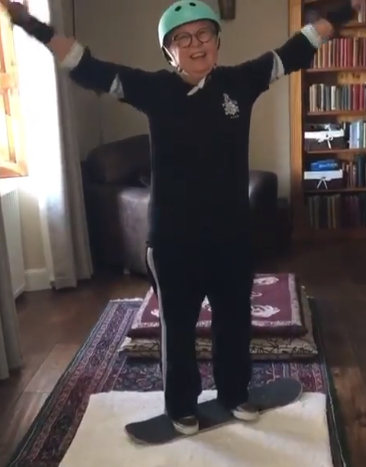 She added: "At the moment progress is a bit slow as I've had a few setbacks because of health problems.
"I'm still on chemotherapy and that does affect how you feel physically, so I'm trying to work around that and get in practice when I can.
"I've had a couple of falls so far. Right now I've got the wheels off to get the motions down, but I'm going to get lessons to give me confidence because I want to do it properly.
"The skateboarding community are truly the most supportive and encouraging group of people I think I could ever have met, and I think it's because of them that it's been such a success.
"People can see that I'm really trying here, and they love that."
'Wonderful research'
Mrs Shallcross, a former library worker at Aberdeen University, wanted to raise money for breast cancer research after hearing a talk from Valerie Speirs, professor of oncology at the institution.
The 68-year-old is currently waiting to find out if her condition is curable.
She said: "I was so impressed that this wonderful research was going on right here in Aberdeen at the university, and I learned about the plans for a new £4.5 million cancer centre to support patients."
Rob Donelson, executive director of advancement at the university's development trust, said: "Not only has Elaine raised an incredible amount of money, but she has also increased awareness of the cause she clearly cares so much about.
"She has also done this in a fun and colourful way, inspiring thousands of people to support and follow her.
"It is a testament to her generosity and dedication that she is so successful."
He added: "On behalf of myself and all my colleagues at the University of Aberdeen, I'd like to say a massive thank you to Elaine as well as everyone who is supporting her and wish her the very best of luck for performing her shuvit skateboard trick on her birthday on July 10."
To support Mrs Shallcross's fundraiser, people should visit www.justgiving.com and search for "Elaine Shallcross".