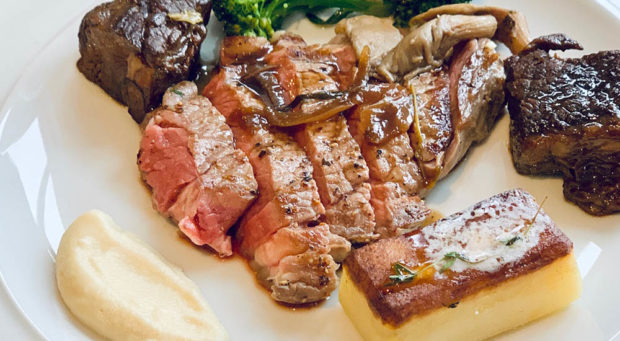 Foodies across Aberdeenshire and beyond have been missing visiting restaurants during lockdown, but some have already taken advantage of restaurant-quality dishes at home.
Modern butchery and fine food specialists, Meet the Meat in Aberdeen, launched its Fine Dine-In concept four weeks ago so that locals could continue to enjoy delicious, expertly-prepared food in the comfort of their own home. So far, hundreds of plates have been created for couples, families, and small get-togethers so they can enjoy this five-star dining experience.
Every two weeks, experienced chef Fraser Rodman creates a menu of three tempting courses using fresh, seasonal produce before preparing the dishes and boxing them up for diners to finish at home. A Fine Dine-In box for two people is £49.95 and, as an optional extra, it can be paired with wine.
The concept is the brainchild of Meet the Meat owner Ian King who identified a gap in the market for those who enjoy a more upmarket dining experience, but were unable to because of Covid-19 restrictions or they were struggling to get a table.
Ian said: "This is five-star dining prepared by a hugely talented chef and served at your home. It is not a slap-up meal, it is not a takeaway; it is a real foodie experience. At home, you control where, when and how you eat – you can even dine in your pyjamas if you like!
"We want to make the best of Fraser's skillset as well as promote local/Scotch meat and produce at the same time. It's all pre-prepared and ready to go, ideal for people with busy lives. We try to do as much of the hard work for people as we can. As we see it, the more we can do for people, the better."
The Fine Dine-In box is brought together by talented Fraser, who has 13 years' experience as a chef, and all you need to do is follow the simple cooking instructions provided.
Fraser, Meet the Meat's development chef, said: "It's a three-course fine dining dinner for two people: a starter, main and dessert. Everything is pre-made, so I will include an explanation of how to heat or how to plate. It just goes straight in the oven or pan, so minimal cleaning up for you."
Most chefs will agree that it's not all about the taste, but the presentation too, so Meet the Meat posts an example of how to plate each dish on its social media – however, members of the public are also encouraged to be creative in their presentation, and share their attempts with Meet the Meat on Instagram and Facebook.
Fraser added: "The whole idea is to have a bit of fun with it and be creative, we love to see people posting how they are plating it up and showing their artistic side.
"I have been very impressed so far, I would be very happy being served quite a few of them in a restaurant!"
Fine Dine-In boxes can be collected from Meet the Meat or delivered to your door. Fancy a weekend treat? Or why not celebrate National Lamb Week, which launches on September 1, with a delicious lamb dish created by chef Fraser to enjoy in your own home?
---
To order your Fine Dine-In box from Meet the Meat visit the website by clicking here. Soon Meet the Meat will be offering fish and vegetarian options too.