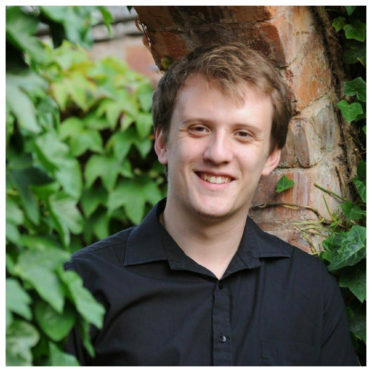 Get ready for a tale of romance and royalty as opera singer Joshua Baxter chats about the opening of The Gondoliers.
Gilbert and Sullivan shows are great for putting a smile on your face, so The Gondoliers will hopefully do just that when the Aberdeen Gilbert and Sullivan Society make its Tivoli debut today.
Cast member Joshua Baxter was asked to come on board after another had to withdraw, but this is not the first Aberdeen show for the 36-year-old. Originally from London, Joshua did three shows during his time as a student at the University of Dundee and was also president of the society. Returning to the stage as Marco Palmieri, a Venetian gondolier, Joshua is now a professional opera singer, despite the fact that no one else in his family is musical.
"Safe to say that was a surprise when I started pursuing music," he said.
"I have always loved singing and it has always been a huge part of my life."
Throwing himself into music life in Aberdeen as a student, the singer was involved in everything he could be in, including the Chapel and Chamber Choirs at the university, the Gilbert and Sullivan Society and the Opera Society. He also sung with some local choirs as well.
Joshua then spent three years studying at the Royal Academy of Music after leaving Aberdeen. Going back to London was easy for him, for it was home turf and he moved back in with his parents while at the academy. But the opera singer is looking forward to his return to the Granite City and to performing in the Tivoli theatre for the first time.
"It opened just after I left Aberdeen," he said.
"I've seen pictures of it and I am excited to get in and sing there."
To get into the character of Marco Palmieri ahead of The Gondoliers opening, Joshua has read and listened to the entire show, as well as undertaking a character analysis "to see how Marco would react to the situations presented to him and explored his relationships with those he interacts with".
Joshua explained about the show, which is set in Venice and the lesser-known Kingdom of Barataria: "It wasn't one I was too familiar with, but I knew a few of the songs. I have enjoyed learning it and it has fast become one of my favourite shows."
Describing a bit of the storyline without giving too much away to prospective audience members, Joshua said: "Marco and his brother, Giuseppe, marry two local girls, Gianetta and Tessa, before being told one of them is the King of Barataria, though no one knows who.
"They go off to the island to rule together until the identity of the true king is revealed. There are other plot lines going on, but you'll have to come and see the show to find out how it all plays out."
"It's a hilarious show with a passionate cast who love performing Gilbert and Sullivan. It will have something for everyone," he said.
The Gondoliers opens tonight, February 15 at the Tivoli in Aberdeen and will run until Saturday night, February 17. See www.thetivolitheatre.com/events/the-gondoliers/