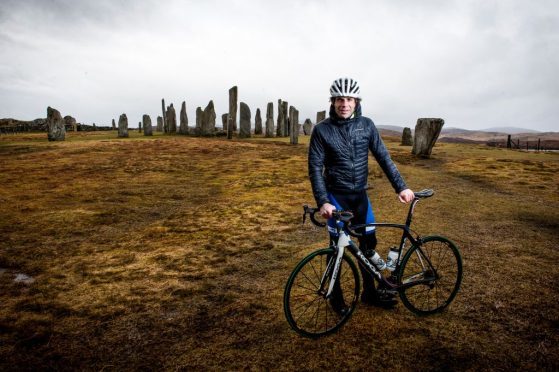 Popular adventurer and TV personalty Mark Beaumont launched the new Hebridean Way Cycling Route in spectacular style, by completing a challenge to cycle the length of the island chain in just 24 hours.
Taking in 10 islands and six causeways, with two RIB crossings courtesy of Uist Sea Tours, Mark completed the 185-mile route from Vatersay in the south to the Butt of Lewis in the north in a single day as part of a push to showcase the appeal of the islands at the start of the 2016 tourist season.
"This whole Outer Hebrides experience has been unforgettable – from the moment I landed on the spectacular beach at Barra to completing the challenge at the islands' most northerly point at the Butt of Lewis," said Mark.
"What struck me most was the amazing immediacy of the landscape, which changes from island to island. The scenery is stunning, and you'd miss so much of it dashing along in a car. This has to be the best part of Scotland, and cycling has to be the best way to see these fantastic islands. The roads are perfect for cycling – quiet and safe.
"So many communities, schoolchildren and cyclists turned out to wish me well on my journey, and I'm sure I'll be back again with my bike to soak up more of this unique Hebridean landscape and hospitality."
Outer Hebrides Tourism's Ian Fordham said: "Cycling is an increasingly popular sport these days, and we have seen more and more people wanting to explore our islands on two wheels. We're delighted Mark accepted our challenge to cycle The Hebridean Way Cycling Route in 24 hours and help to put the route on the cycling map.
"It has to be one of Scotland's most scenic cycling routes, and we know that visitors will be as impressed as Mark was with the changing landscapes from one island to the next. Moreover, our tourism industry is well-equipped to cater for cyclists who want a quality experience while they're here."
Mark tackled an exciting variety of some of Scotland's most scenic cycling routes in mixed Hebridean winter weather and seemingly unhindered by strong winds; an effort expected to emphasise the islands' tourism potential to fans of pedal power – and everyone else as well.
His journey was filmed and footage of it is now available through social media channels (where fans of the cycling star have already been following his efforts using the hashtag #HebWay). The footage will help to highlight the amazing experiences an island-hopping holiday in the Outer Hebrides offers to a global online audience – encouraging cyclists and others from across the world to come and experience the islands for themselves.
Scottish Natural Heritage's David MacLennan says visitors following in Mark's pedalled path could expect an unrivalled experience of the islands' great outdoors.
He said: "Cyclists on the Hebridean Way will experience spectacular scenery and wildlife from start to finish. From unspoiled beaches through the machairs, moors and mountains, people will come across corncrakes, seals, otters and eagles, to name but a few. Every day will be different. Lots of people come here to cycle already, and we hope the Hebridean Way Cycling Route will encourage many more to come and experience what we have to offer."
Research suggests that an additional 2,000 visitors will soon be cycling the length of the islands.
Along with the new Hebridean Way Cycling Route, visitors can follow a new Eat Drink Hebrides Trail – another exciting initiative that will help visitors experience a true taste of the islands. Featured food producers and eateries from across the archipelago are showcasing their fantastic Hebridean produce and drumming up interest in Eat Drink Hebrides, a trail designed to encourage visitors to discover real Hebridean flavours while island hopping.