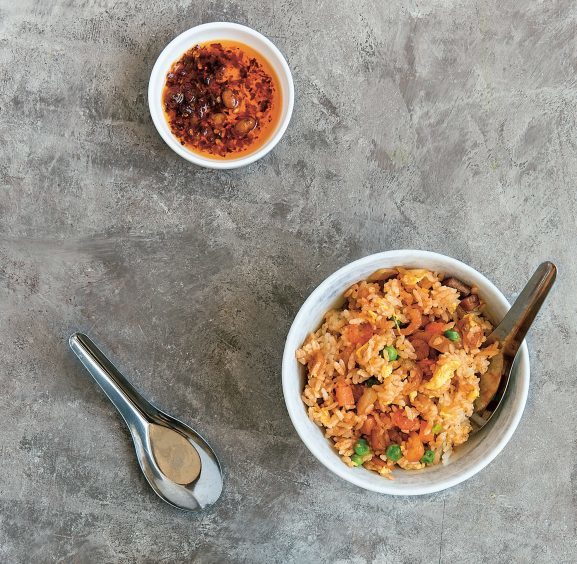 Husband and wife duo, Diora Fong, 65, and Kei Lum Chan, 75, have written China: The Cookbook, a collection of 650 recipes from across every province in China – after all, "if you have China on the cover, you have to feature all of the regions," says Kei Lum.
The book is the work of a lifetime spent exploring, tasting and collecting ideas, and took two years to pull together in a bound form.
They're in the midst of a mad dash round the globe (London via San Francisco, then on to Australia), but aren't showing the jet lag; the Chans are experts when it comes to travelling, mining each destination they visit for foodie revelations.
"When we go somewhere new, the first thing we do is to always go to the market to see what there is and what we can buy, then we go to a bookshop and do some research – and then we go eat," says Kei Lum.
This is a man who, in his eighth decade, gets up at 4am every day to start work on developing new recipes.
His and Diora's work ethic is beyond impressive, but it's a misconception that Chinese cooking is nightmarishly difficult, exacerbated by complicated ingredients lists and topped up with monosodium glutamate.
At the Asian and oriental cookery school, School of Wok in central London's Covent Garden, host, head chef and founder, Jeremy Pang says it's the prep that's the hard work.
He says the first 45 minutes of most School of Wok cookery classes are spent chopping and dicing ingredients.
The actual cooking in Chinese cookery is often a flash moment that just brings everything together.
Fortunately the School of Wok team have done the chopping for us today, and we're presented with platters containing everything we need, from soy sauce and garlic, to dehydrated mushrooms and dried scallops, a stupendously expensive delicacy that tastes similar to crab.
Even the dumpling wrappers are shop-bought, with Kei Lum admitting he doesn't bother making his own either.
We take the smooth rounds of dough and Kei Lum demonstrates how to pack them with ground pork and herbs, and then create origami-like pleats in a robust ridge, like on a pasty, so they stay watertight when boiled or steamed.
It's like making fajitas, no matter how hard you try to be sparing with the filling, you always overstuff them.
Next up, wok time…
Plain rice is tricky enough on its own, but Kei Lum's got it down to an art.
We must use cold rice (if it's a day old, even better) and crack an egg directly into it, forking it through until every grain looks like a "golden nugget" – don't add the egg to the pan when frying, that's when it gets scrambled.
It takes just a few minutes to crisp up, and it's amazing how professional you feel flinging rice into a smoking wok.
In southern China, restaurants are widely judged on how well they steam fish, so we are not trusted with the piece de resistance: whole steamed sea bass, dressed in a broth with lemon grass and fried spring onions – a dish that is genuinely stunning.
Eating out in a Chinese restaurant is always a treat, but if you're inspired to make your own Chinese food tonight, try one of these three recipes from China The Cookbook…
Pot Stickers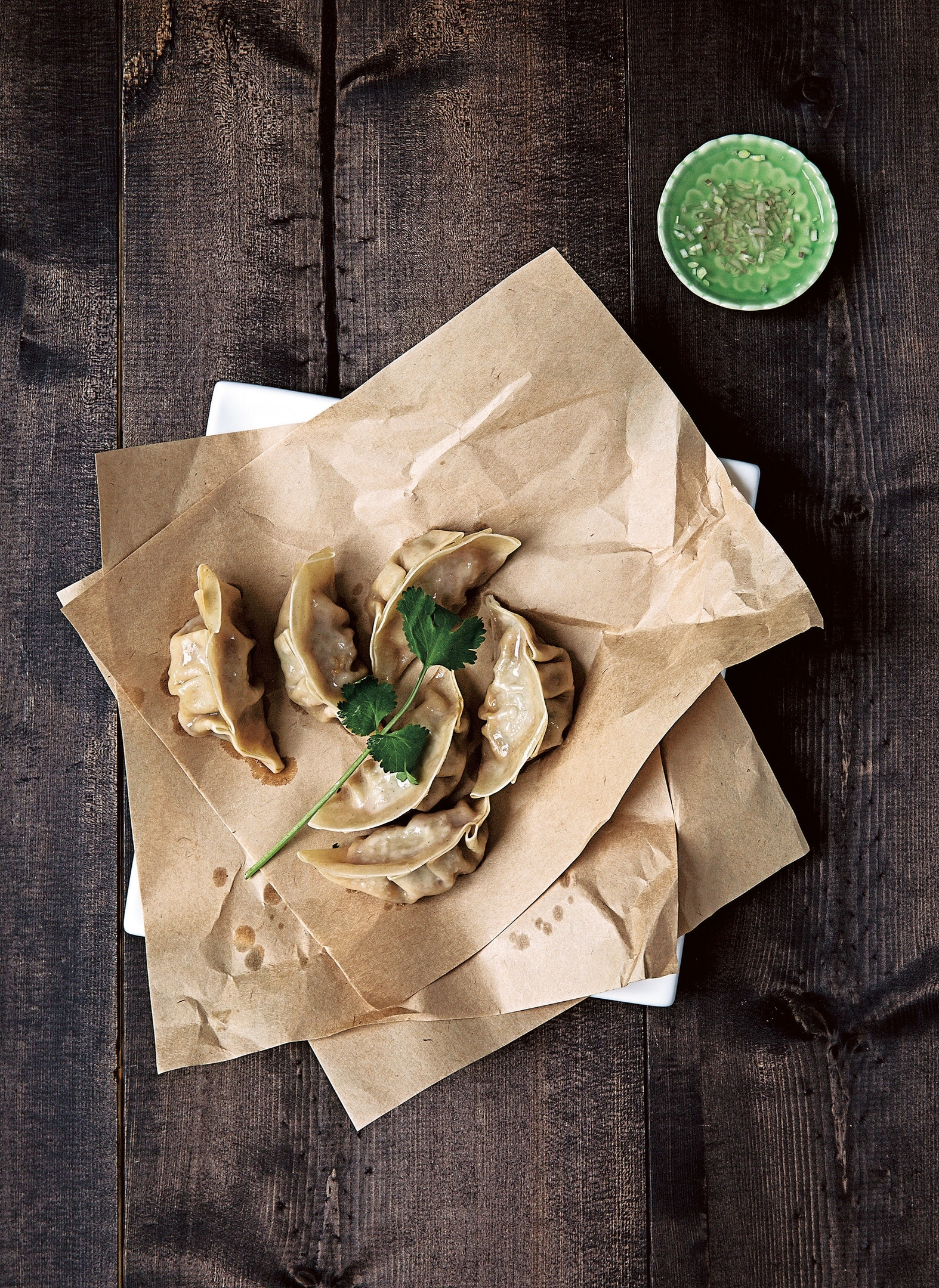 MAKES 24
300g pork mince
1 1/2tsp light soy sauce
1/2tsp salt
1tsp granulated sugar
1 small napa cabbage (about 600g), leaves separated (also known as Chinese Leaf, available in supermarkets)
1tsp corn flour
1tsp sesame oil
24 large dumpling wrappers (available from Chinese supermarkets or from Amazon)
1tbsp vegetable oil
Coriander, to garnish (optional)
FOR THE DIPPING SAUCE:
2tbsp balsamic vinegar
1tbsp shredded ginger
Combine the pork, soy sauce, salt, sugar, and four tablespoons water. Marinate for 15 minutes. Bring a large saucepan of water to a boil, add the cabbage, and blanch for five minutes. Drain and rinse under cold running water. Chop the cabbage and squeeze out most of the water. Mix thoroughly with the pork. Stir in the corn flour and sesame oil and mix well.
Fill a small dish with cold water and set aside. Lay a dumpling wrapper in your hand and place about one tablespoon of filling in the middle. Brush a little water on the edge of the wrapper, fold over into a semicircle, and seal the top by firmly squeezing the edges together. Start on one end of the semicircle and create pleats by pinching and pressing the edges tightly, about 10-14 pleats per dumpling. Repeat with the remaining wrappers and filling.
To make the dipping sauce, combine the vinegar and the ginger in a small bowl and set aside. Heat the oil in a large frying pan over a medium heat, add the pot stickers and 120ml water, and cover the pan. Cook for 20 minutes until the water has been absorbed and the bottoms of the pot stickers are golden brown. Transfer to a serving plate, garnish with coriander, if using, and serve with the dipping sauce.
Hong Kong Fried Rice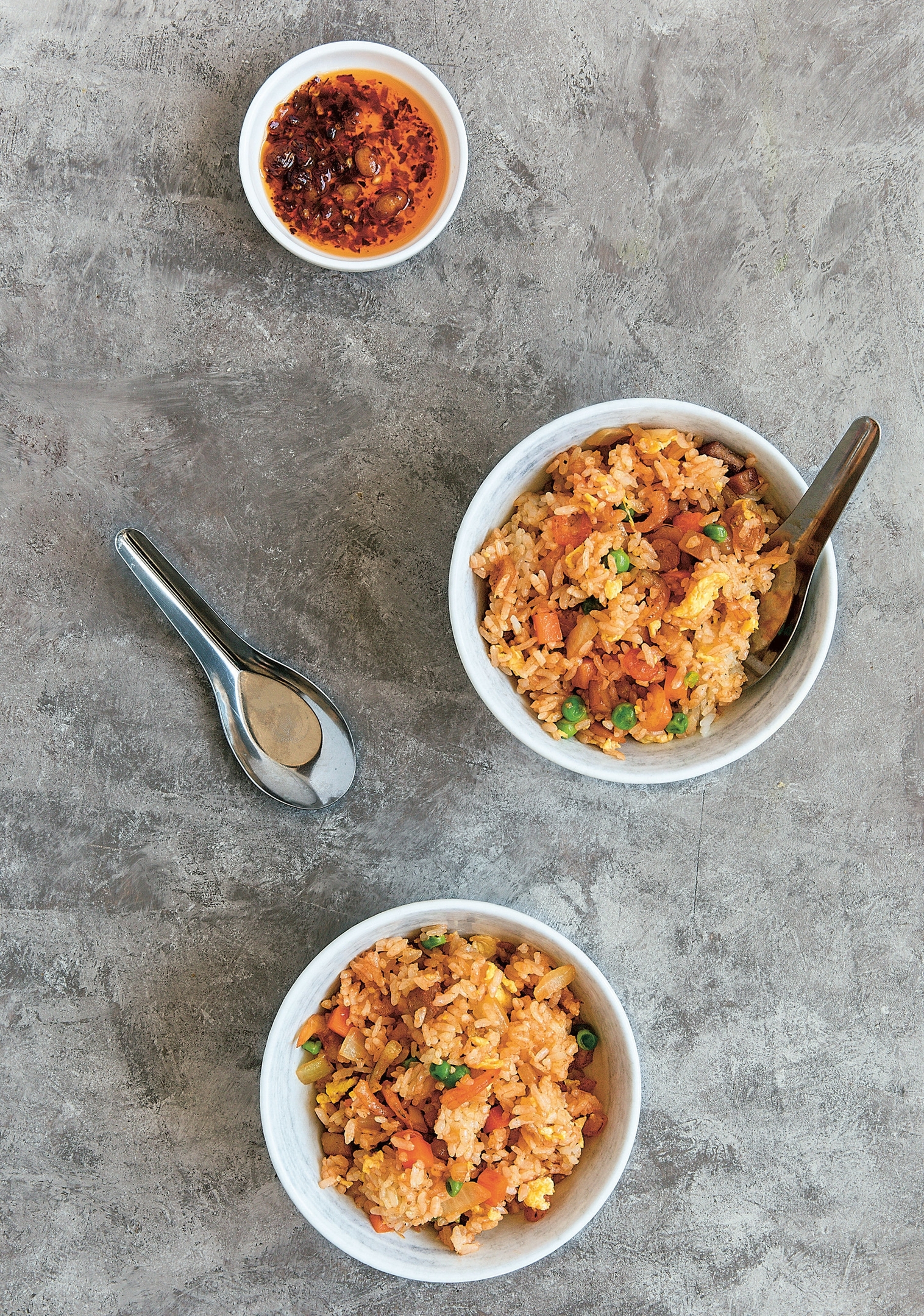 SERVES 3-4
1 carrot, diced
100g cooked ham, diced
50g frozen peas
2 eggs, beaten
500g cooked long-grain rice, rinsed, lumps broken up, and drained
1tbsp vegetable oil
1/2 onion, diced
150g shelled uncooked prawns, deveined and diced
1tsp salt
3tbsp ketchup
Bring a small saucepan of water to a boil. Add the carrot, and blanch for two minutes. Drain and rinse under cold running water. Transfer to a bowl, then add the ham and peas. Mix the eggs with the cooked rice in a large bowl.
Heat the oil in a wok or large frying pan over medium-high heat. Add the onion, and stir-fry for five to seven minutes until softened. Add the prawns and stir-fry for about two minutes until just cooked. Put in the rice-and-egg mixture, salt, and ketchup and stir-fry for three to four minutes until the eggs and prawns are cooked.
Add the ham and vegetables. Toss thoroughly for another two minutes. Transfer to individual bowls or a serving plate, and then serve.
Steamed Fish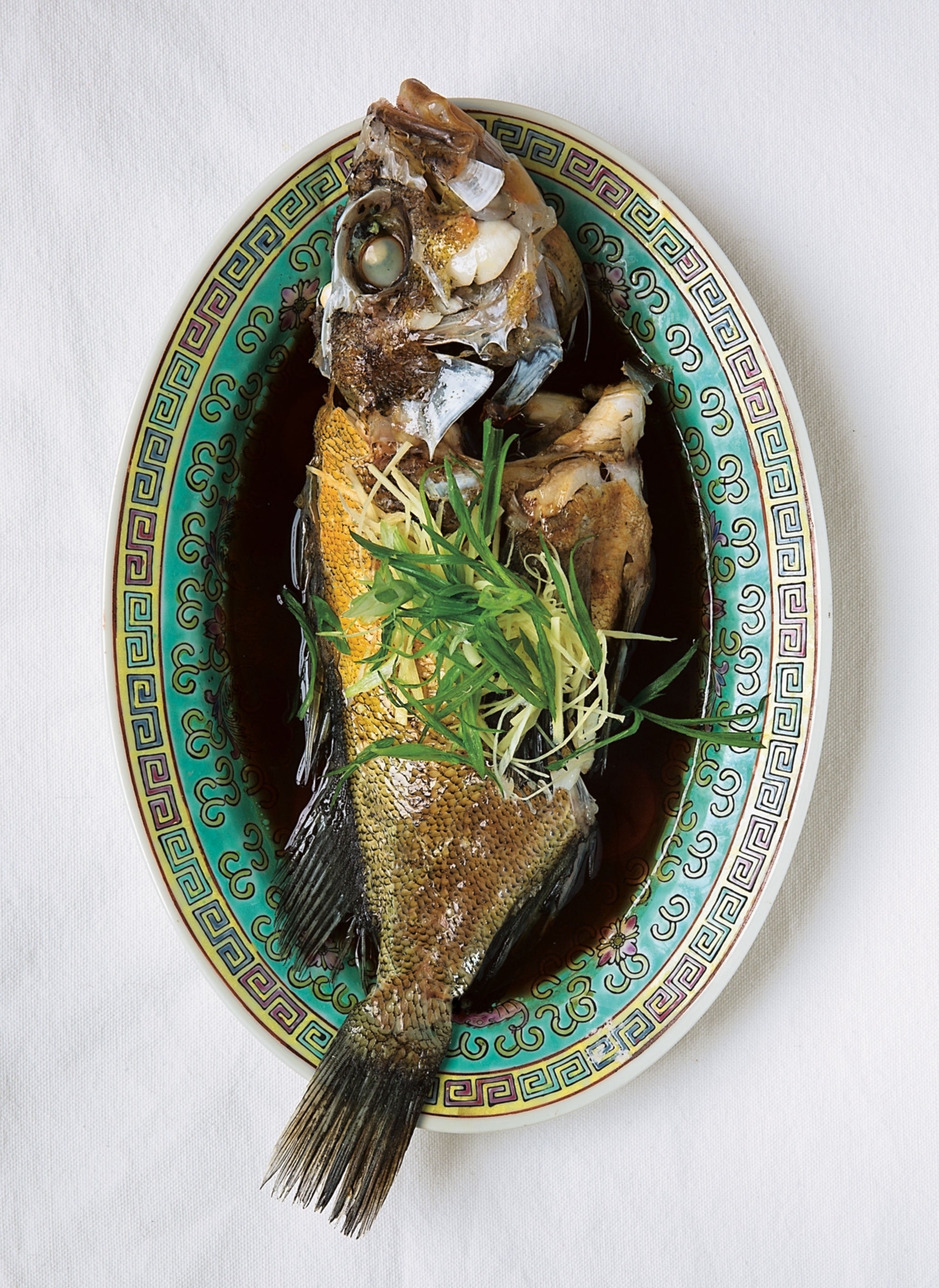 SERVES 4
600g firm white fish, cleaned and rinsed
2tbsp vegetable oil
10g ginger (about 2cm length piece), shredded
2 spring onions, shredded
Steamed rice, to serve
FOR THE SPECIAL SOY SAUCE:
2tbsp light soy sauce
2tsp fish sauce
2tsp granulated sugar
1/4tsp ground white pepper
Put the sauce ingredients into a bowl, mix well, and set aside. Place the fish on a heatproof plate and put into a bamboo steamer over a pot of boiling water.
Steam, covered, for about nine minutes, or until cooked through. Drain away the steamed fish juices collected on the plate. Combine the sauce with four tablespoons of water in a frying pan. Bring to a boil, then remove from the heat and pour over the fish.
Wipe a skillet with paper towels, add the oil. Set over a medium heat for one minute until thoroughly heated. Stir in the shredded ginger and pour over the fish. Top with the spring onions and serve with the rice.
China The Cookbook by Kei Lum Chan and Diora Fong Chan is published in hardback by Phaidon Press, priced £29.95.