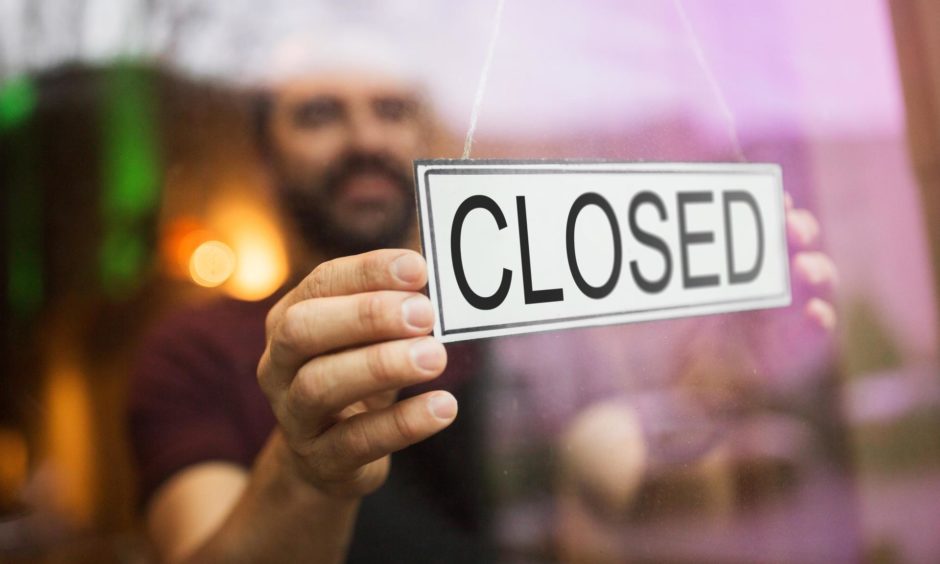 As bars and restaurants are told to stop selling alcohol indoors and close at 6pm, various businesses have opted to temporarily close in a bid to survive.
Numerous bars and restaurants across the city are opting to shut down on a temporary basis as a result of the new restrictions on the hospitality industry announced by the Scottish Government yesterday.
Unable to serve food inside their venues after 6pm and with no alcohol sales allowed inside for the next 16 days come Friday 6pm, many are now looking to close their doors as the only option to keep staff in a job and their business afloat.
Restaurants including Melt, Coast to Coast and a Pizza Express branch, have already permanently closed due to the coronavirus pandemic, and now The Spiritualist, Siberia Bar & Hotel and Orchid have all closed on a temporary basis to safeguard their businesses.
There is also a likelihood that many others will follow suit in the coming days with new restrictions making it impossible for some to trade face-to-face.
Several bars and restaurants have also decided to stay closed for the foreseeable future, with the city's No. 1 Bar & Grill also making such a decision.
Adrian Watson, chief executive of Aberdeen Inspired, says the 6pm curfew could be "devastating" for numerous businesses and is calling on the Scottish Government to clearly explain how businesses can take advantage of the £40 million pledged to help hospitality firms affected in Scotland.
He said: "The restrictions announced by the First Minister today will be met with real anxiety by our businesses who have worked tirelessly to provide a safe environment in Aberdeen City Centre for both customers and staff.
"Many of our evening and night-time economy businesses have already reported back that the recently imposed 10pm curfew has been hugely detrimental, so the implications of pushing back to 6pm could potentially be devastating for some. Welcome as the government support package is, we need to understand the actual detail and how much of this will find its way to Aberdeen City Centre businesses, with a strong sense already that this won't be anywhere near enough.
"Our retailers have also gone above and beyond in complying with all that has been asked of them and on today's announcements some have questioned the evidence base for the two metre rule in store. The interdependencies between retail and a strong hospitality offering are well known.
"Covid-19 has only served to accelerate the scale of the challenge to town and city centres across the country and Aberdeen is certainly not immune. This is coming into a vital time of year for our businesses and we need to be working together to build more confidence as the economic health of our city centre is so important to the well-being of many in the city and wider region."
Marc Crothall, chief executive of the Scottish Tourism Alliance is disappointed to see these restrictions come into place, pointing to the significant investment into venues across the country to make them as Covid-19 safe as possible.
He added: "We are acutely aware of the delicate balance between protecting public health and the economy; the reality is however that many businesses will not be able to trade at a level over the next few weeks which would sustain them through the next couple of months and may not be economically viable beyond this year.
"The details of the new restrictions as announced by the First Minister this afternoon which will come into force in just two days' time are nothing short of devastating for the majority of those operating in our hospitality industry." – @MCrothall https://t.co/rDgtWQTX0A

— ST Alliance (@st_alliance) October 7, 2020
"Whilst many people will be relieved that they can get away on a holiday over the half-term break, businesses have already reported they are taking cancellation calls and expect to see more over the coming days, impacting all areas of the sector, including the supply chain.
"The announcement of funding support from the Scottish Government of £40 million is welcome and will hopefully go some way to meeting the loss of revenue and support the fixed costs being incurred during this period of restrictions.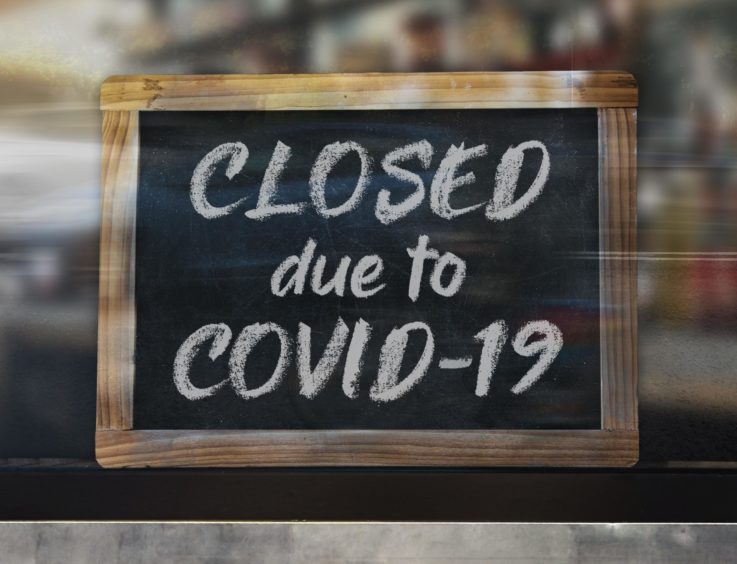 "We welcome the opportunity to engage in further discussions to determine how the funding package will be best apportioned but it remains the case that the amount of support will not be sufficient to protect businesses from being forced into potential full time closure with job losses incurred.
"What is essential is the measurement of the impacts of these restrictions over the course of their enforcement, balanced against the forecasts our members have shared with us over the last few days and we look forward to the invited dialogue as intimated by the First Minister."
---
The current list of restaurants and bars to have closed permanently in Aberdeen are:
Melt
Under The Hammer
Pizza Express, Belmont Street
Coast to Coast @ Union Square
The current list of restaurants and bars to have closed temporarily are:
The Stag and McGinty's Meal An' Ale
The Spiritualist
Siberia Bar & Hotel
Orchid
No. 1 Bar and Grill
Dusk
Bothy Restaurant and Bar at The Palm Court Hotel
Barburrito, Union Square
Revolution
O'Neill's Irish Pub
Tolbooth Seafood Restaurant
Six Degrees North
If you are aware of any more cafes, bars or restaurants closing in the city, please let us know at foodanddrink@dctmedia.co.uk
---
The Stag and McGinty's Meal An' Ale
"We wish to express our sincere thanks to each and every person that has supported our businesses during this challenging time.
Thank you to our fantastic team, our amazing suppliers & contractors, our behind the scenes staff and of course, our customers who continue to support our venues.
Due to the new restrictions, we will be revising the opening hours of our venues and will update all venue websites and social media channels in due course.
If you wish to discuss current bookings you may have, please contact our venues direct."
---
The Spiritualist
The firm posted on social media to announce its temporary closure.
The statement read: "A message from our group, Signature Pubs. So sorry to say that in light of the FM announcement, The Spiritualist Aberdeen will close with immediate effect until the restrictions are lifted again.
"We want to take this opportunity to thank you, our fantastic customers, for your support and custom since we began reopening our venues on July 6th – in line with the Scottish Government's Route Map.
"We have served 350,000 customers since then and have delivered great pleasure and vital socialising at a terrible time. We have invested £250,000 in Covid safety measures, training, additional staff numbers to aid service, communication, signage and other hygiene measures and this destructive force has swept the feet from under us – at a time when we weren't exactly steady on them.
"Such announcements, from the FM today, damages the consumer confidence in our sector and the evidence surrounding transmission is anecdotal and largely circumstantial. We will increase our take away service at several venues -to protect jobs – and your support will be so appreciated whilst we continue to scenario plan for when we can re-open.
"As we said in March, to use the words of an immortal song, we'll meet again!"
Popular Aberdeen cocktail bar to shut with 'immediate effect' after spending £250,000 on coronavirus safety measures
---
Siberia Bar & Hotel
"At Siberia Bar and Hotel we have endeavoured to do all that we can to provide the safest possible internal and external environment for our customers.
"This has been remarked upon by the thousands of customers and the positive feedback we have received.
"The new restrictions that will be coming into place on Friday for 16 days have lead us to the decision to close our doors for the time being from close of play at 10pm this Saturday night (10/10) as remaining open past that point is not a viable prospect.
"In doing this we will be protecting our staff by reengaging with the furlough scheme (in the hope that further sector support will become available) and continuing in our efforts to help as many people as we can across the industry within the city of Aberdeen and Scotland."
Popular Aberdeen bar takes decision to close for the foreseeable future in response to new restrictions
---
Orchid
The popular cocktail bar had reopened on Saturday nights, however will return to offering its cocktail delivery service instead for the time being. The drinks can also be posted across the UK, too.
The firm posted a statement on Facebook to announce the changes.
It read: "Due to the new restrictions surrounding hospitality we'll be taking a small break from in bar service. As we promised, we'll be here for all your home delivered goodness!"
---
No. 1 Bar & Grill
"Due to the ongoing Covid situtation and the restrictions that apply to the hospitality industry at present we have come to the sad decision that No. 1 will not re open in 2020."
---
Melt
"We've tried really hard to keep things going, but like many small businesses at the moment we just couldn't weather the storm any longer. We have changed our business a hundred times during the first lockdown… then the second lockdown happened."
---
Under the hammer
"Under the Hammer will not reopen. Holed below the water line and unable to remain afloat."
---
Barburitto, Union Square
The firm has been removed from Union Square's food offering and is tagged as 'temporarily closed' on Google.
---
Coast to coast, Union Square
"The casual dining sector has faced enormous, well documented pressures which have been exacerbated by Covid-19 and the lockdown.
"Unfortunately, we have had to take difficult but necessary decisions to ensure a sustainable future for our business."
Job losses as Aberdeen restaurant closes due to Covid-19 pressures
---
Pizza Express, Belmont Street
"Unfortunately, the impact of the global pandemic has meant that we have had to make some incredibly tough decisions to safeguard Pizza Express for the long term.
"Today we have confirmed that 73 of our pizzerias are proposed to close permanently."
Pizza Express in Aberdeen among 73 to close in nationwide restructuring deal
---
Dusk
"Unfortunately we have had to take the hard decision to close for the foreseeable future. Under the current regulations… it has made it an impossible climate to operate in.
"We would like to say thank you for the amazing support we've received on our last post and we are so excited to share with you what we've been working on behind the scenes."
---
Bothy Restaurant and Bar at The Palm Court Hotel
"It's goodbye for now… but not forever! With government legislation changing regularly and in line with some of the more recent developments, we now feel that even welcoming our locals back to our Bothy Restaurant and Bar is not feasible at this time…"
---
For more on this…
'It's like the prohibition era again': Dismay as pubs and restaurants are banned from selling alcohol and told to close indoors at 6pm
Fears north hospitality trade could miss out on £40 million support funding