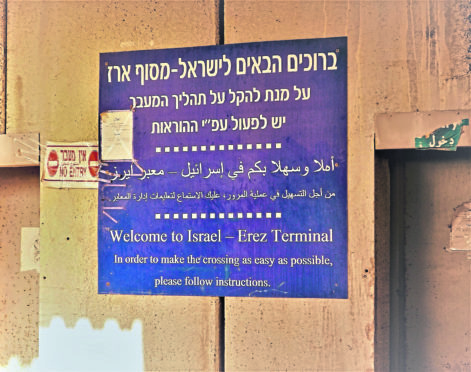 Governed by Hamas, whose long-held aim is the destruction of Israel, the Gaza Strip is home to almost two million people. It has been under severe blockade by Israel for more than 10 years.
Unemployment is near 50%, electricity runs for only four hours per day, raw sewage is pumped directly into the sea, 80% of houses receive humanitarian aid, hospitals are running out of medicine, landfill is filling up fast and 97% of the water is undrinkable.
With no airport, the sea on one side patrolled by the Israeli navy, a southern border with Egypt that is closed, a restricted area that is backed-up by razor-wire fences and watchtowers and a huge concrete wall in the north, the Gaza Strip is often referred to as an open prison. And without written special permission from Israel, which is mostly refused, no ordinary Gazan can ever leave this place.
Since last I've been here, some months ago, much has happened, and none of it good. Huge demonstrations have taken place every Friday directly at the Gaza border fences. Tens of thousands have taken part, throwing stones, Molotov cocktails, handmade bombs, and most recently setting fire to kites that have landed in Israel, causing havoc and setting fire to much land. They are demanding an end to the blockade and their right to freedom of movement.
The Israeli Defence Force, the IDF, regard this as "terrorist activity" and have returned fire with not just rubber bullets but live ammunition. Between 150-200 Gazans have died and thousands more injured.
When I discussed my return with Rami, my contact in Gaza, he told me via Skype: "It's very dangerous now, brother."
I headed straight to the Israeli Government press office in Jerusalem to pick up my press card, for without that, the IDF will not let you cross into Gaza. While there, I was informed that Israel had closed the Erez crossing for two hours that very morning. Reason? Probably because rockets had been fired into Israel, one actually hitting a house in Beersheba. The warning sirens went off so the family managed to get to safety just in time. Another rocket landed in the sea, close to Tel Aviv. In response to this, Israeli jets struck at Hamas targets in the Gaza Strip. The danger level is undoubtedly increasing here every day.
The following morning, I took the bus from Jerusalem to the town of Ashkelon on the coast of Israel, only 15 minutes away from the Gaza Strip. Then, a short taxi ride to Erez, and as we drove close to the border area, I noticed Israeli tanks all lined up in a field. "This isn't good," I thought to myself.
Erez Crossing
"Do you have any weapons?"
"No," I replied, then I was let through a turnstile that was remotely controlled. I walked 50 metres and entered the main building, a large modern terminal, not unlike say Heathrow's Terminal 5. Inside though, it was deserted, I was the only one crossing. I placed my luggage into a scanner, and walked through an airport-style metal detector. As I did this, a soldier stood 10 metres away, machine gun in his arms, never once taking his eyes off me. Once again, I was asked if I had any weapons.
In front of me stood half a dozen glass encased booths. Electronically controlled gates in front and behind them, you don't go in or out of anything here, it's all controlled. I was directed towards one, the female official inside it looked over at me, a sign clicked to green, I opened a gate and walked into the enclosed area. Speaking using a mike through bullet-proof glass, she took my documents and asked me a few questions. Satisfied all was in order, she buzzed me through without a problem.
Then, after another two electronically controlled turnstiles, I headed outside the building, walked through the open concrete door in the huge wall and entered the one kilometre caged-in tunnel. It was eerily calm outside the wire mesh. With Israeli CCTV watching me from above, I left Israel and walked towards Gaza.
The Gaza Strip
The entry point to Gaza, manned by "Fatah", the party of Palestinian President Mahmoud Abbas, who do not have good relations with Hamas, were friendly as previous. They asked me no questions, just gave me a stamped piece of paper and allowed me to proceed. "Welcome to Gaza," they said.
My two contacts soon arrived and were allowed to proceed in a car towards Gaza City. But we never made it, for after 500 metres, we were pulled over at a Hamas checkpoint.
Told to get out of the car, we were taken into an off-road army compound with portable buildings. This had never happened before, so I was initially very concerned. My two contacts were also taken aback at this, yet tried to assure me by saying: "Just official stuff."
Inside a portable building, which I was told was the "security office", sat two Hamas guys. One started questioning me on near everything. My two passports, UK press card and especially Israeli gov press card were studied in detail, photocopied and actual photos taken of them all with mobile phones. I kept being told it was all OK, just bureaucracy. I wasn't so sure. There was no aggression in the questioning by Hamas, just suspicion and huge uncertainty.
"Where did you go to university?" Was among some of the strange questions they asked. "How many countries have you been to?" He didn't seem impressed when I said "Over 80."
The Hamas official scribbled three pages of notes and my answers in Arabic. In between this, he made numerous phone calls, then came back at me with more questions. I had to write in English the name of the book I had written and where he could view it and a name and link to the newspaper I wrote for.
I drank water and at times was free to walk around the yard. Camouflaged nets hung over the area and giant posters advocating their cause adorned some walls.
In Gaza City, calls were being made by Rami to find out was happening. However, I was later informed that due to fear of an imminent strike by Israel, top Hamas officials had all been evacuated out of government buildings in Gaza City, so no calls were being answered.
Finally, after almost three hours, I was told I was being denied entry. Why, I do not know. It seems the two Hamas guys weren't getting any answers regarding my status either. To be fair, one of them did in English say: "I'm sorry."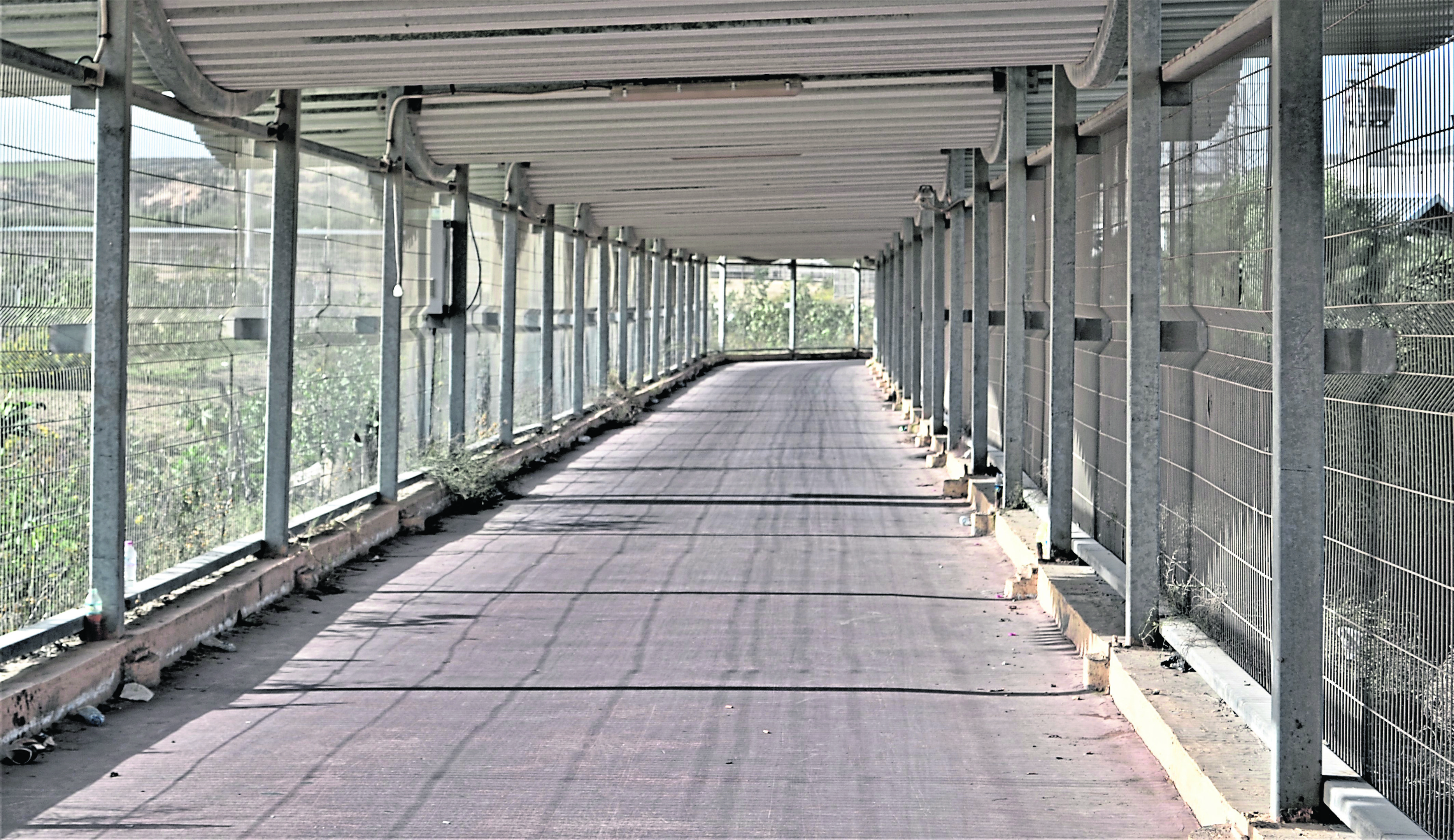 Back at the Fatah checkpoint they couldn't make head nor tail of me not getting in and shook their heads at my story. I walked slowly back through the caged-in tunnel. But on arriving at the Israeli wall, which has metal automatic doors built into the concrete, they were all shut, no one was around. It was near 3.30pm. Why is this important? Well, it's the time every Thursday that Israel closes the Erez crossing completely. It does not open it again until 7.30am on Sunday.
Hamas were not letting me into Gaza, and it looked like Israel had shut up shop for 64 hours. Standing in the caged-in tunnel, I looked up at the CCTV above me and raised my arms in a "some help would be good here" pose, then sat down and took a glug of water. My brain started to run wild … now wouldn't that be a heck of a column for next week … "Stuck for 64 hours between Israel and Hamas …"
Suddenly a loud electronic beeping sound filled the air, a red light flashed and a door in the concrete wall slid open. An Israeli official appeared and gestured to me to come through.
After going through the entire full-on Israeli security checks, filling in paperwork, all electronic items scanned and a full body scan, I was stamped back into Israel much to the bewilderment of the official who had let me leave previously. I did say to her that I realised I'd just made it back before they shut up shop till Sunday, but what would have happened if I had been stuck in the cage between a closed Israel and Hamas not letting me enter Gaza? She told me: "We wouldn't have left you there." Good to know.
It feels like Israel and Hamas are once again at the brink of full-out war, not seen since 2014. What happens in the next 48 hours would determine whether I'd try to enter Gaza again on Sunday.
Four hours later I was back in Jerusalem, my head scrambled as I tried to work out the mess of plans being shot to bits, being out of pocket, plans for interviews and columns trashed. Yet I was dead on my feet, so decided to leave any decision-making until the morning. I would also be watching the news intently to see how it would all play out between Israel and Hamas.
It had been a long trying day. After a much-needed shower, I fell into a deep sleep for nine hours.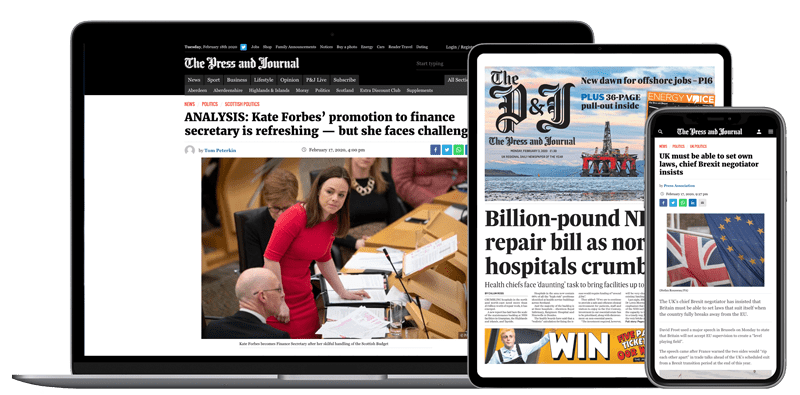 Help support quality local journalism … become a digital subscriber to The Press and Journal
For as little as £5.99 a month you can access all of our content, including Premium articles.
Subscribe