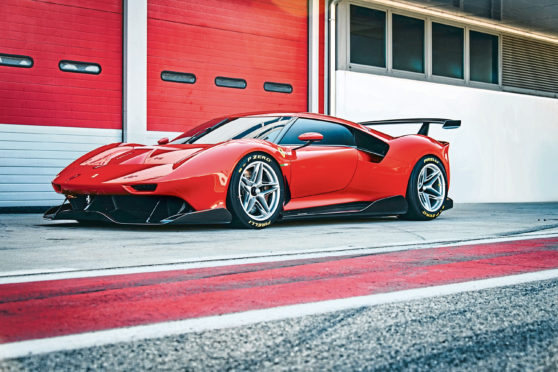 Ferrari has unveiled a unique new model – the P80/C.
Commissioned by a client, the bespoke vehicle is based on a 488 GT3 racer chassis. This was used because of the increase in wheelbase length it offers – 50mm longer than the regular 488 GTB road car.
The car's aerodynamics are based on its donor's, but add a new front splitter and a larger, redesigned rear diffuser. The bodywork is crafted entirely from carbon-fibre, and a range of underbody aerodynamic elements have been included too.
As a result of being a track-only vehicle, the P80/C isn't bound by road car regulations. It has allowed Ferrari to reduce the size of the headlights, while adding a concave rear windscreen.
The rear bodywork section has been given T-wings – a design feature of Formula 1 cars in recent years.
Though Ferrari hasn't disclosed performance figures for the car yet, it's likely that it uses a derestricted version of the 3.9-litre turbocharged V8 found in the 488 GT3.
The regular road-going 488 GTB produces 661bhp, so expect figures to be well in excess of this.
The interior is stripped-back and lightweight.
The side areas of the dashboard are redesigned compared to those on the 488 GT3, while the door panels have been created from carbon-fibre, with Ferrari claiming that they "have no impact on the car's weight".
No price for the P80/C has been revealed yet.