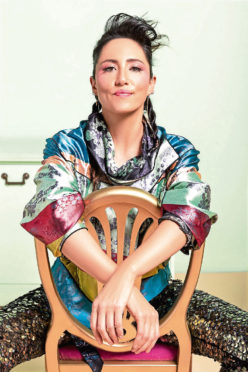 Over the next few days, thousands of people will make their way to Stornoway for the much-loved Hebridean Celtic Festival, fondly known as HebCelt.
Getting there will be extra fun from now on as CalMac Ferries, which operates the Ullapool to Stornoway service, is renaming the Loch Seaforth ferry the HebCelt Ferry during festival week.
The floating ceilidh will have pop-up information and a ticket office on board as well as a festival-themed menu in its restaurant, all of which will get visitors in the mood for another cracking festival.
Taking place between July 17-20, the festival features almost 30 international acts in its main arena programme – including headliners KT Tunstall, The Shires and Tide.
Now based in California, where she re-located in 2012, KT is excited about coming to the Hebrides again.
"I just absolutely love this part of the world," she said.
"You can travel all over the globe and there's nothing like the Scottish isles.
"Even the journey getting to Stornoway is a total adventure.
"I remember last time I played HebCelt I was gifted a beautiful custom-made Harris Tweed jacket – it was great to wear something truly Scottish for the occasion.
"And then, of course, there's the crowd, and being Scottish myself there's such a great feeling of coming home and singing our lungs out together along with a beer or four."
Another in-demand female singer is acclaimed contemporary Gaelic singer Kim Carnie.
If her voice sounds familiar, that's because she is also the voice of THQ Nordic's Black Mirror, the first videogame to feature Gaelic song, and also the second, The Bard's Tale.
"I'm delighted to have been a part of both, they are both great games," said Kim.
"There is something similar in the pipeline, which will be announced in the winter."
Before then, festivalgoers can see her live on stage.
"This will be the first time performing at HebCelt with my own band and we're all looking forward to playing our songs on the Islands Stage," said Kim.
"We'll be playing some new material as well as songs from our recording In Her Company."
Also making their HebCelt debut are Hudson Taylor, aka brothers Alfie and Harry Hudson-Taylor – who have gone from busking on the streets of Dublin, to recording songs for a new album in Nashville, and have played some major festivals including Glastonbury.
"We can't wait to play HebCelt, we've heard great things and we're buzzing to see Stornoway," said Alfie.
The pair found fame after a YouTube video of them busking on Dublin's Grafton Street went viral and videos of their folk-pop songs now attract millions of viewers.
"When we first started singing together in 2008, we were both teenagers in school in Ireland," he said.
"Our initial goals were to set up a YouTube channel, go busking and maybe get a gig", recalls Alfie.
"We did all of this pretty quickly, so we set new goals like writing our own songs, playing with other musicians and eventually releasing music.
"Those goals have brought us all over the world in 10 years of making music together and countless more goals, gigs and songs, lots of good times and hard times… but mostly good times."
Other must-see acts include award-winning singer, Orkney-born songwriter, Kris Drever, SIAN, a trio of Scotland's finest Gaelic singers and the award-winning quartet, Fara.
Fara, Kim and Kris all appear on the Islands Stage, which has a programme featuring a dozen acts from different parts of the UK. It gets under way on Thursday July 18.
Performers here include the six-piece traditional outfit Beinn Lee, from Uist, and the The Benedict Morris Trio, featuring this year's BBC Radio Scotland Young Traditional Musician of the Year.
The Friday line-up includes widely-acclaimed London-based songwriting duo Ferris & Sylvester and Irish multi-award-winning quartet JigJam, who blend traditional Irish music with Bluegrass and Americana in a genre known as I-Grass.
Starting Saturday's programme will be Jamie MacDonald and Christian Gamauf, and Jake Morrell, from Norfolk, who was asked to play at Glastonbury after festival boss Emily Eavis heard him on the radio.
Last year, HebCelt scooped several top awards for festivals, and if this year's line-up is anything to go by, then perhaps the organisers need to think about clearing a bit of space in their trophy cabinet…
www.hebceltfest.com