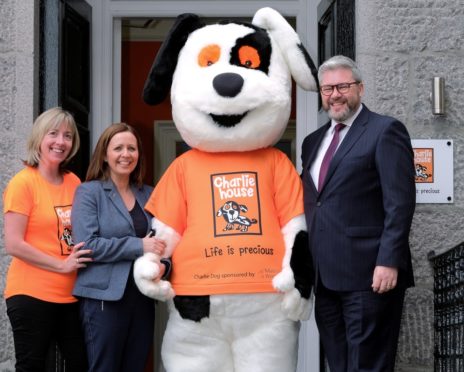 Local children's charity Charlie House has added a new member to its team…in the form of furry friend, Charlie Dog.
The charity logo has been brought to life thanks to the kind support of Mattioli Woods, one of the UK's leading providers of wealth management and employee benefit services.
The charity secured a two-year sponsorship deal with Mattioli Woods, who launched their re-brand this week, to enable the purchase of a bespoke Charlie Dog mascot. The mascot will attend major attractions such as parades and running events and be a familiar, friendly face at the charity's regular activity clubs.
Formed in 2011, Charlie House supports babies, children and young people with complex disabilities and life-limiting conditions in the north-east of Scotland. It also assists their families.
Susan Crighton, director of fund-raising for Charlie House, said: "We are thrilled to welcome Charlie Dog to the team and are so grateful for the support of Mattioli Woods to enable us to do so.
"As a charity, we are all about making memories and injecting as much fun into every day as possible. Our new furry friend will be absolutely key to that.
"The Charlie House logo was originally designed by Chair Tracy Johnstone's eldest son when he was seven-years-old and it's wonderful to see him being brought to life. We welcome organisations who may wish to 'dog sit' for Charlie or want him to attend one of their events."
Wendy Atkinson, Aberdeen-based business development manager of Mattioli Woods plc, said: "We are delighted to support Charlie House and recognise the significant contribution it makes to the lives of many deserving families in the North East of Scotland.
"From its inception, Mattioli Woods has always held a strong sense of corporate social responsibility and continues to believe in offering support to help the communities it serves as a company".