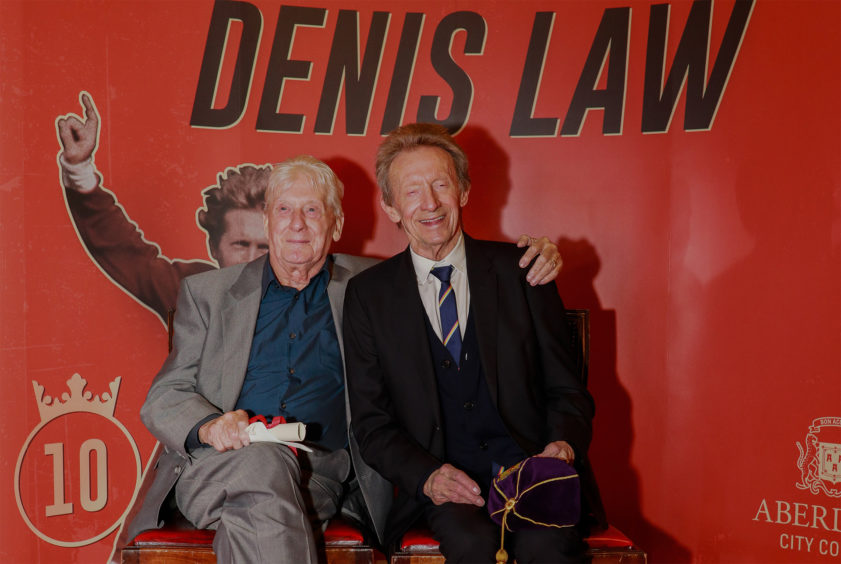 When Denis Law received the Freedom of Aberdeen in 2017, he was given an honorary Scotland cap by the city council and immediately handed it to his older brother Joe.
The city's most famous footballing talent has now spoken of his sadness following the death of his sibling at the age of 87.
Mr Law, the former Scotland and Manchester United star, recalled how his brother became a familiar figure on the Aberdeen to Edinburgh train service while he was working in the dining car as an employee of British Rail.
He also revealed how the duo were "very lucky" to survive after being involved in a car crash in Italy in the early 1960s, when the duo were taken for a spin in the new Alfa Romeo of former Torino teammate, Joe Baker.
The football legend said: "I invited my brother over for a week in the sun and I used to do all the driving when I was there, but Joe Baker was at the wheel in this case and he was driving on the wrong side of the road when the accident happened.
"We weren't wearing seatbelts, but we were very lucky that day.
"The car rolled over a number of times and flattened its roof, but we all survived. Joe Baker was badly injured, but I got a cut hand and my brother was equally fortunate.
"My brother was a big influence on me. So it is obviously sad news that he isn't here any more, but he didn't suffer and he enjoyed good health until the last couple of weeks.
"He liked his football, he was a good family man, he met so many people when he was working in the dining car and he had an excellent life, a full life and he was devoted to his family."
Joe Law died at home on May 2, following a short illness.
He is survived by his wife, Nancy, and was a much-loved dad to Denise, Debbie and Donna.
He was one of seven children – four bothers and three sisters – who lived at Printfield Terrace in Aberdeen and he spoke of his pride when his brother was conferred with the Freedom of Aberdeen two years ago.
Barney Crockett, the city's Lord Provost, said: "Joe was like a father figure to Denis and they were very close.
"I remember the SFA sent us an honorary Scottish cap, which we passed on to Denis.
"Well, at the ceremony, he turned round and immediately handed it to Joe.
"You could see what the occasion meant to both of them."
Mr Law's funeral takes place on Friday, May 10, at Hazlehead Crematorium at 1.15pm.