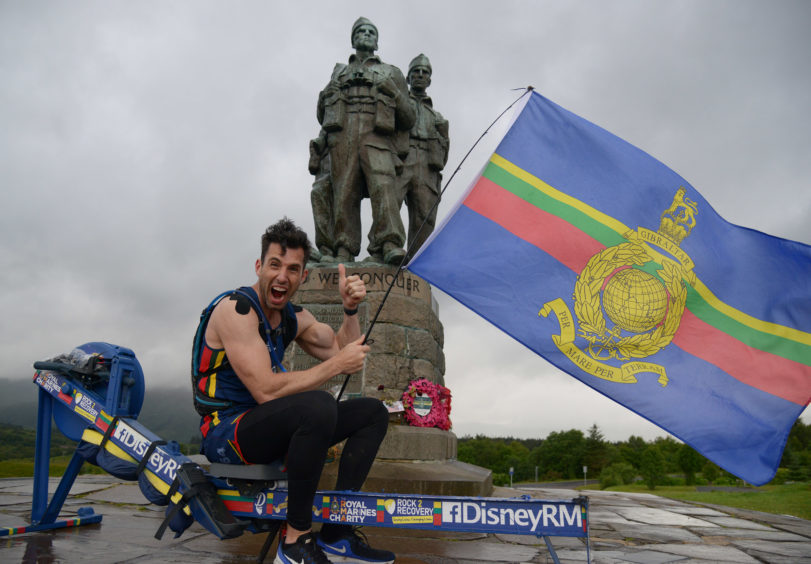 An ex-Royal Marine with a lust for a "unique and difficult " challenge has just completed a 13-day yomp between, and up, Britain's three highest peaks – while carrying a 25kg rowing machine.
And, as if that wasn't enough, he even clocked up the same number of miles he trekked up the mountainside by rowing it out at the top.
Matthew Paul Disney, a former Royal Marine Commando, completed the challenge to raise money for two charities that are close to his heart – The Royal Marines Charity and Rock to Recovery.
The challenge is the third of seven the commando had planned to do this year.
Mr Disney told the P&J that he wanted to inspire other people with his challenge. He said: "I have three aims from my challenges the first is to challenge myself and better myself.
"The second is to inspire other people – even if that is walking instead of taking the car – I want to get people fit and active.
"The third thing is to raise awareness of the two charities I am fundraising for.- they do all the hard work."
Mr Disney completed Ben Nevis on Sunday evening, saying it was quite a challenge. He said: "I think I battled through every kind of weather to get to the top. It was much tougher than you imagine, so it was good to get to the top and for the challenge to be over.
"I will announce my next challenge on August 1, which is also my birthday."