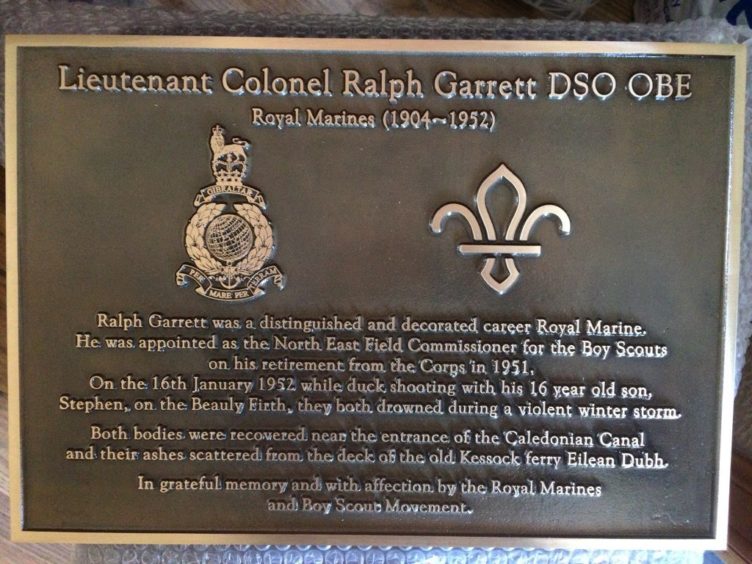 The daughter of a war hero who will be remembered at a special commemoration later this month has been traced – thanks to the Press and Journal.
Lieutenant Colonel Ralph Garrett drowned along with his 16-year-old son in the Beauly Firth in 1952.
The tragedy happened just two years after the family moved north, following Lt Col Garrett's retirement.
During his military career, he was regarded as almost indestructible – especially after he led an audacious escape from German occupied Crete, followed by a perilous Mediterranean crossing to safety.
On Saturday, the Royal Marine Highland Association – who will unveil a plaque in his honour at the old Kessock ferry ticket office on January 26 – appealed for help to track down Lt Col Garrett's daughter Elizabeth, who was only 11 when he died.
Now, thanks to P&J readers, Elizabeth and her family will attend the ceremony.
Former Marine Steve Nicoll, who made the appeal, said yesterday: "The article prompted a very swift response from Elizabeth. Living in rural Aberdeenshire, she said she was delighted to hear of the arrangements in memory of her father and brother.
"I am so grateful and pleased to have established contact with Elizabeth and her family. It means so much to the Royal Marines family to have them included in the dedication service at Kessock in Inverness.
"In particular, I wanted to extend my personal thanks to the readers of the Press and Journal who provided such a warm and generous response to this human story.
"Now that Elizabeth has been found, it would be of tremendous interest to learn more about Ralph Garrett's time with the Scout movement in Inverness."