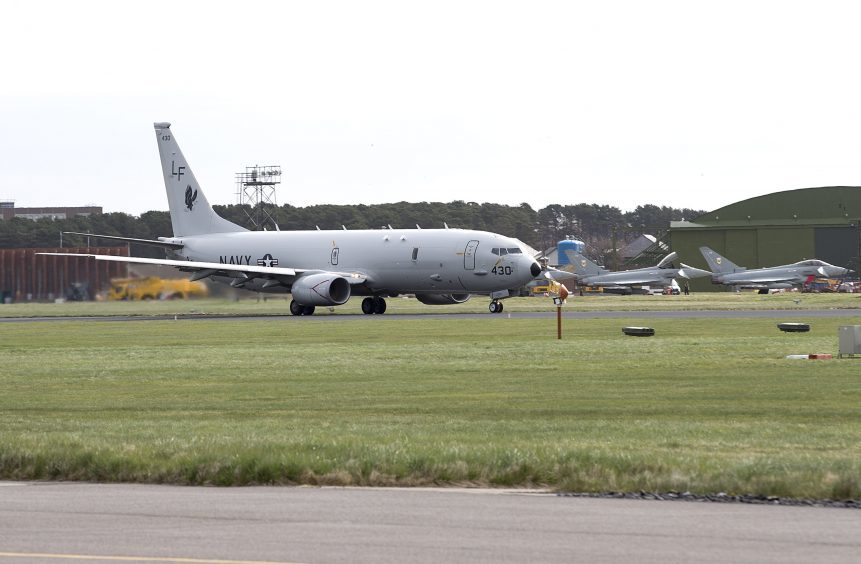 A fleet of jets from around the world will zoom into RAF Lossiemouth later this month for a series of spectacular training sessions.
Aircraft from Canada, America, Germany and Turkey will be stationed at the Moray base from Monday, April 11, to Friday, April 22 during Exercise Joint Warrior.
Alongside 60 jets, more than 30 warships and submarines will patrol the extensive northern shoreline during the operation.
The airfield is making plans to house a new fleet of Boeing P8 Poseidon surveillance planes in the coming years, and local enthusiasts will be able to get an early glimpse of the impressive machines when a deployment touches down to take part in the exercise.
Maritime patrol aircraft pilots aboard P3 Orion and Atlantique jets will also demonstrate their skills over the following weeks.
And a fleet of F-16 fast jets from Turkey will perform tactical sessions in the skies above Moray.
Around 6,500 military personnel from 14 countries are expected to arrive in the region next week, and crews will be staying at local hotels.
RAF Lossiemouth's exercise operations officer, Flight Lieutenant Guy Radcliffe said the exercise would put the station through its paces.
He said: "This will involve every section at RAF Lossiemouth.
"In order to facilitate each visiting units' individual requirements for the exercise, planning has been ongoing since last year.
"It will be an extremely busy fortnight.
"Particular challenges will involve working with different coalition countries, operating large aircraft from an airfield which is set up for much smaller, fast jets and fitting it all around RAF Lossiemouth's own ongoing high operational tempo, essential training and Quick Reaction Alert activities."
Exercise Joint Warrior is a tri-service and multinational exercise held in the UK every spring and autumn.
Residents have been advised that night flying may take place later than 11pm during the drills.
Last November, the UK Government unveiled plans to locate nine new Boeing P-8 Poseidon craft at Lossiemouth as part of its Strategic Defence and Security Review.
The Ministry of Defence said 200 additional personnel would be on-site at Lossiemouth by 2020, with that number rising to 400 over the following years.