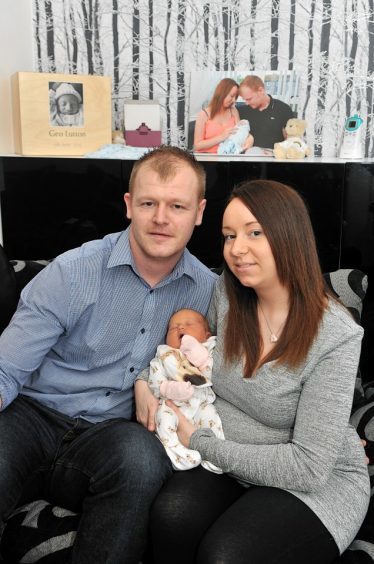 An Aberdeen couple whose beloved baby boy died aged just four weeks have spoken of their delighted at welcoming a new addition to the family.
Little Geo Lutton was given just a week to live after he was diagnosed with short bowel syndrome, which meant his small intestine was only 18cm long – 22cms below the minimum length expected for a newborn to survive.
But the tot battled on for four weeks before he died in the arms of mum Leah Johnston last July.
But Ms Johnston, 19, and fiance Tommy Lutton, 30, have now welcomed a new bundle of joy, daughter Skylar.
And the couple, who got engaged late last year, are determined she will know all about her brother – giving her the middle name Georgi.
With the support of the same staff who looked after the couple when they had Geo, delighted Tommy spoke of his joy at the arrival of little Skylar.
The 30-year-old said: "When we were told we could take the baby home we were almost thinking it wasn't true, because the last pregnancy we were two weeks in hospital going through tests and seeing doctors.
"It almost felt like we were stealing her but we were just delighted to be able to go home with our daughter straight away.
"Knowing it was a straight-forward birth and we weren't expecting any complication was simply overwhelming for us especially when she came and everything was just fine.
"It's an amazing feeling and words can't describe it.
"We have been through so many emotions and going forward we needed to make sure the birth was right this time.
"Skylar now deserves every opportunity to come into this life worry free and we wanted to make sure everything was perfect."
The couple have continued their fundraising and awareness campaign in memory of Geo and will present £3,000 to Friends of the Special Nursery in Aberdeen later this month.
Mr Lutton added: "Geo will always be in our hearts and we will always remember the great memories we had with him."