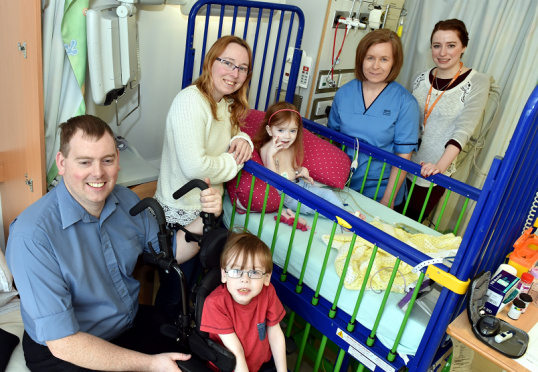 A new nursing position that will improve care for youngsters with complex disabilities and life-limiting conditions has been created thanks to the children's charity Charlie House.
After a major fundraising drive, Jackie Stewart has been employed full time as a Charlie House children's community nurse.
Enough cash has been raised to fund the role for the next three years.
The new post will provide families of severely-disabled young people across Aberdeen and Aberdeenshire with better care, both at home and in hospital.
Ms Stewart said: "I started in January.
"My role will be to care for children with complex needs and in need of palliative care in the community.
"If we can prevent children with complex needs from having to come into hospital unnecessarily, and all the risks that come along with that, then that's a great thing for families.
"There are a wide variety of specialist nurses, such as nurses that work with epileptic children, but with this new position, families of kids with a lot of different needs will now have one point of contact."
Two siblings who will benefit from Ms Stewart's services are Findlay and Iona James-Bruce – who have both been diagnosed with the extremely rare condition Trisomy 12q.
The pair rely on wheelchairs to get around, and endure a number of other physical disabilities.
Their mum Charlotte said that Ms Stewart's services will make her family's life a lot easier.
She said: "When families don't have time to be chasing around different people, they can now phone Jackie and she'll be able to sort it out.
"It's handy having someone that we know we can phone – Iona has a gastro-specialist nurse, but for all of her other issues she doesn't have a specialist nurse, but now Jackie will be able to get to know all the families, and all of their children's many issues – and care for a children as a whole, not just their individual problems.
"It will be really, really beneficial, and we can't thank Charlie House enough."
To find out more and support the charity, visit www.charliehouse.org.uk