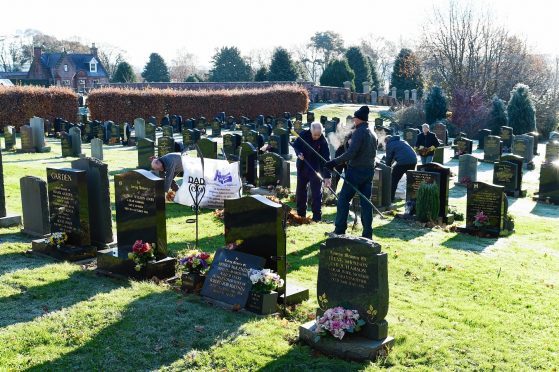 A north-east community group has won a £2,000 grant from a supermarket, boosting its campaign to improve a local cemetery.
The Friends of Turriff Cemetery organisation was set up in November in a bid to clean up the burial ground and surrounding area. It was chosen to be part of Tesco's ongoing community grant scheme.
Shoppers at stores in the area were offered the chance to put a token into the Friends of Turriff Cemetery box to show their support. Up to £5,000 was available for the most popular scheme.
The group came second in the Bags of Help public vote, behind the Keith skate park initiative. The Fraserburgh Secret Garden project came third and claimed £1,000 of funding.
Last night group treasurer Morag Lightning said: "We are delighted to have come second, and would like to congratulate the two other groups on their awards.
"We are going to use the award to purchase a leaf vacuum and mulcher which will make our volunteer clean-up days a lot easier."
She added the society will also purchase seats to be installed around the grounds.
And she said: "We would like to thank everyone who voted for us. We are a relatively new group, so it was really encouraging to see how much local people are supporting our efforts."
When Friends of Turriff Cemetery was launched, Aberdeenshire Council heralded the scheme as a good partnership between communities and councils.
It is hoped that while the authority continues to maintain the grounds, local residents will enhance the cemetery for visitors.