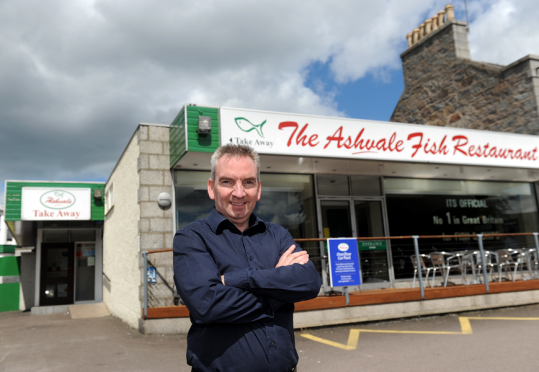 The management of a famous Aberdeen fish and chip shop have been left reeling after their business was targeted by thieves for the second time in just two weeks.
Police officers have launched an investigation after a laptop, worth around £500, was stolen from The Ashvale on Great Western Road on Wednesday night.
The thieves smashed their way into the building through a window, causing more than £1,000 worth of damage, before attempting to pry open a safe which was already open.
The incident comes after an Ashvale delivery van – and two fish suppers – were stolen while a driver was out on delivery in Northfield last Tuesday.
Operations director Stuart Devine said: "When you get your van stolen one week and your office broken into the next, you start to get the feeling that somebody up there has got it in for you.
"It's very annoying that they've stolen my laptop, but we'll be faced with a big bill because they panned the window in with a big paving slab and smashed the frame apart.
"The repairs for the window will be around £1,000, and there was other damage inside – they tried to hack open a safe with a crowbar, and they ripped a shelf apart.
"They turned the office upside down before heading off into the night with whatever they could fit in their bag.
"Here's hoping that somebody knows who did this and phones the police."
A police spokeswoman said the incident took place between 11pm on Wednesday and shortly after midnight in the early hours of Thursday morning.
Constable Vicki Shepard, of the Whinhill community policing team said: "If anyone recalls seeing anything suspicious in the area, or if anyone has any information on this incident, please call Police Scotland on 101.
"Alternatively, the independent charity Crimestoppers can be called on 0800 555 111 to provide information anonymously."
The van, which was stolen last Tuesday, has been recovered by police.