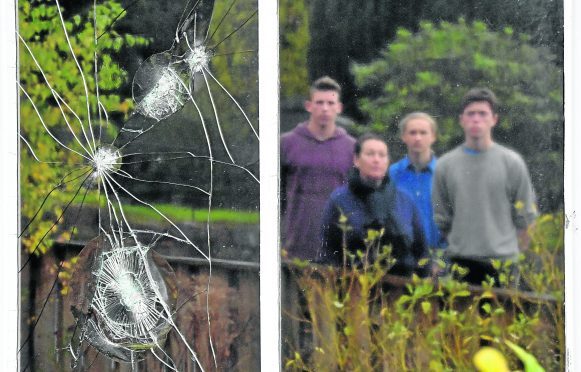 Heartless vandals have targeted a school for the third time since it opened at the beginning of the year.
Staff and pupils at the Aberdeen Green School, which occupies the former Drumoak Primary building on Sunnyside Drive, returned from the October break to find that windows had been shattered and a cabin had been broken into.
Police have now launched an investigation into the incident, which is believed to have taken place at some time between October 19 and Monday.
This incident is the latest in a number of incidents since staff and pupils moved into the building in January.
Previously, vandals sprayed "explicit" graffiti on the walls and kicked in a door in on two separate incidents.
On this occasion, the perpetrators shattered at least three windows and broke into the cabin where a canoe is stored.
Director Diane Elliott said staff at the school, which is run by a charity, had been left exasperated by the incidents.
"It's really frustrating that it keeps happening," she said.
"The pupils were really upset about it, we've boarded up the windows but I don't think we'll bother replacing them, it seems pointless.
"When we moved in we had to replace windows which had been smashed in after the old school was shut, so we would have to pay for them to be fixed again.
"It seems a waste of time if it's going to keep happening."
The school currently has eight pupils, who are all over-16 and many of whom previously attended the Waldorf School in Aberdeen before it closed in 2014.
The building is rented from Aberdeenshire Council, which still owns the property.
Police are now appealing for anyone with information to come forward.
Constable David Charnley said: "This is a mindless act which is not only upsetting for those who use the school but will be costly to repair."
The old Drumoak school closed last year after serving the local area since 1800.
Anyone who can help the force should contact 101.
An Aberdeenshire Council spokesman said: "Any instance of vandalism at a school building is deplorable. Vandalism is not a victimless crime. The council has reported the incident to Police Scotland and will work with the current leaseholders of the old Drumoak School building on arranging repairs once the extent of the damage is known."