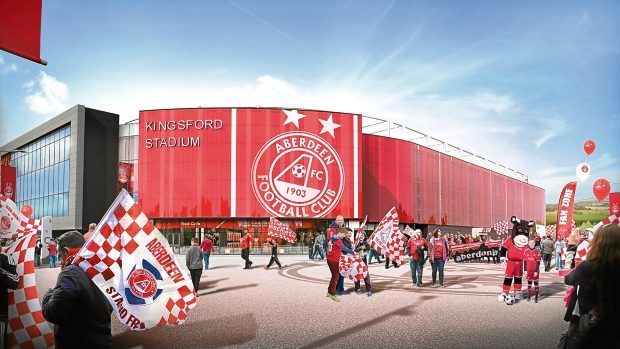 Westhill residents clashed at a heated meeting to discuss the fresh public consultation on Aberdeen FC's new stadium plans.
The club put plans for the £50m stadium and training facilities at Kingsford near Westhill on hold in October after a pre-determination hearing in September.
Last month the new consultation was launched, with today being the final day for written submissions.
A hastily-arranged meeting of Westhill and Elrick Community Council took place last night, with around 40 residents and community councillors packed into the Braemar Suite at the town's Holiday Inn to air their views.
Chairman John Hunter informed those in attendance that the community council had voted 11 to three against the development, insisting that it went against planning considerations. Six community councillors chose not to vote. The community council's submission will be made today.
Residents in favour of the stadium argued that the council should have made contact with the Dons, Aberdeenshire Council and other stakeholders to discuss what could be done for the community, rather than just dismiss the idea.
But it was argued that the council had stuck to guidelines and the onus was on the club to demonstrate what Westhill would gain from the development.
Mr Hunter said: "We looked at various issues surrounding the project and voted to object to the application. We have addressed it based on planning matters. We want the best for Westhill. We feel the stadium is in breach of planning considerations."
Westhill resident Kenneth Young argued: "Instead of objecting, would it not be in the best interests of Westhill to find out what the benefits would be by speaking to AFC Community Trust and other partners?"
Phillip Wilkie added: "Surely we have a duty of care as a community council to ask the club to expand in detail and engage with people. It's not a closed shop."
Charlie Love, former chairman of the community council, said: "It is the responsibility of the applicant to make their case. All they have done is produced a single side of A4 with a list of activities that could be done in an open or closed space.
"It is all for the benefit of the football club. There is nothing to substantiate that this will benefit the community."
A further pre-determination hearing has been provisionally set for January 17.