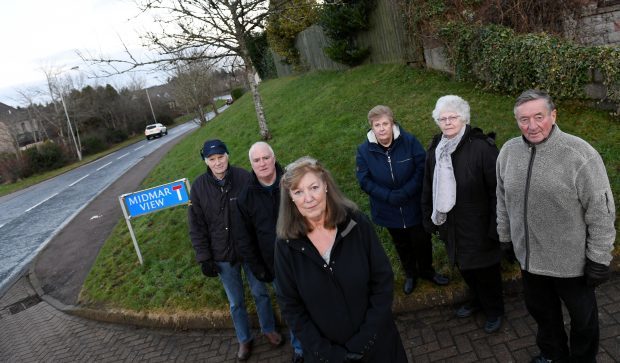 Angry residents claim they are being forced to foot the bill for the upkeep of a housebuilder's land more than two decades after the development was finished.
Householders in the Midmar area of Kingswells say they were sent a "bombshell" letter from Malcolm Allan Housebuilders in September notifying them that the firm had resigned as factors.
The letter gave residents a week's notice of a meeting to decide upon a new factor which they would have to pay for.
It stated: "No further works will be carried out by Malcolm Allan Housebuilders Ltd and the maintenance of these areas by Malcolm Allan Housebuilders will cease immediately following the meeting."
Now a group of homeowners is challenging the firm's decision amid claims they will have to pay for the upkeep of trees, grass and paths which could cost them thousands of pounds.
Nikki Duffus is one of 62 affected residents in the scheme, which was known as the Ridges when it was being built.
She said: "There are pensioners, disabled people and one person who lost his job in oil and gas that live here – they can't afford to suddenly take over paying for the upkeep of trees on the main road.
"I didn't buy my house in 2006 to be told in 2018 that I was going to have to pay for Malcolm Allan's land.
"They gave us the option of signing up for their chosen factor and offered to pay £2,000 towards it but only if we chose that firm.
"They had the right to pass the responsibility for maintenance on to residents when the last plot was built, which was 27 years ago, why are they only now invoking this condition?"
Last night Malcolm Allan's technical manager Colin Wood replied to say the appointment of the factor had been "long overdue" and they had been maintaining the areas as a "goodwill gesture" since the development was completed.
He added: "The factoring arrangements are established in the title deed conditions for the Kingswells development, this ensures that the original customers and any future home owners are aware that they are jointly responsible for the maintenance of common areas.
"We suggested James Gibb as the factor based on their proven track record of good customer service and they were appointed as factor by a vote of the homeowners at a November meeting.
"We are not responsible for the maintenance of common areas; however, over many years since the development was completed we have carried out maintenance work free of charge to the homeowners as a goodwill gesture.
"We have received letters of thanks from a number of homeowners in recent weeks who appreciate the maintenance works Malcolm Allan carried out on their behalf."