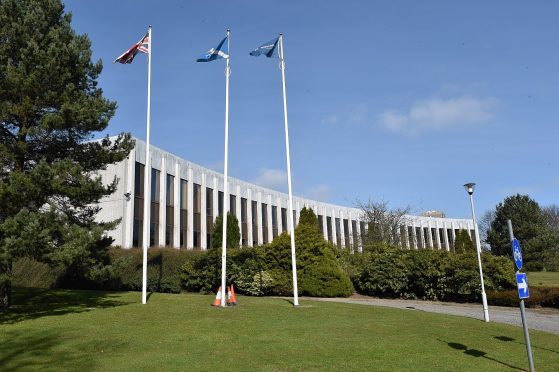 A campaigner fighting a north-east quarry development has raised fears over road safety.
Council planning chiefs have earmarked the mineral extraction site based five miles away from Ellon for approval.
The move comes despite 84 objections from the public citing concerns over potential dust, noise and traffic problems.
One of the objectors, Scott Bartlett, told councillors of his concerns at a Formartine area committee meeting held in the commuter town yesterday.
He even parked his van, covered with a banner calling for the quarry plans to be rejected, outside the meeting venue.
Mr Bartlett said local residents had road safety concerns.
He said: "We are a very close knit community and travel on the road daily.
"We walk our pets, ride our horses and our kids are safe to play without the threat of 20 tonne lorries going by every few minutes.
"Chap and Aberdeenshire need to make a Muirtack a safe place to be and they are still a long way off."
The Chap Group proposes building a series of passing places for lorries on the road which connects the A952 with the quarry.
The firm's joint managing director, Hugh Craigie, said it was "essential" that the firm found a new resource.
He said: "It is essential that a replacement quarrying source is found for Chap to continue quarrying operations in this area and the continued employment of 20 plus members of staff directly involved in this.
"We are aware that as a quarry it is a contentious proposal and the impact on those residents adjacent to the scheme are a key consideration.
"But an unavoidable fact is that quarries must be sited where the natural resource is present, unlike other types of businesses we do not have free choice over where we can be based.
"Although small by quarrying standards, this site presents a particularly good quality sand resource.
"Every effort has been made to address issues of amenity for local residents."
Formartine area committee chairwoman Isobel Davidson said that safety was her main fear.
She said: "I understand the need to get the material, I don't have particular concerns about noise and dust.
"I do have concerns over road safety and we should send that message back to the Buchan area committee."
The Buchan area committee will make a final decision next month.