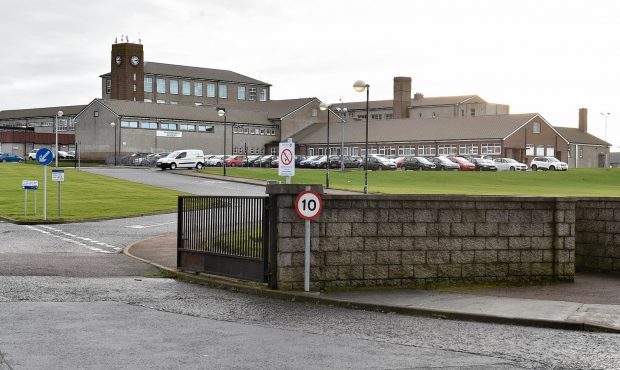 A parent has raised concerns after a package containing an unknown substance – believed to be drugs – was found in the corridor of a north-east school.
The clear plastic bag, containing a white substance, was found by pupils at Fraserburgh Academy near their maths classrooms on Wednesday.
A student posted a picture of the bag online.
A furious parent has now blasted Aberdeenshire Council for not doing enough to tackle the problem of drugs at school.
Speaking under anonymity, the mum said: "There is a huge drug problem up there and they refuse to believe that.
"I think it's shocking."
It is understood the bag was handed over to a teacher soon after it was found.
And last night, a spokeswoman for Aberdeenshire Council said community police officers have since collected the item for analysis.
Local councillor Brian Topping, the chairman of the town's community safety group, has previously visited the school alongside campaigners to warn of the dangers drugs pose.
In 2014, he backed a local mum who spoke out about the experiences her own son had with legal highs at the age of 14.
A year later, the mobile phone application Yik Yak – which shut down last year – was blamed for helping youngsters arrange drug taking sessions in and around the port.
The social media platform allowed youngsters to anonymously post and share information about where they would be.
Yesterday, Mr Topping said: "It's very concerning, but my understanding is that it was handed over to the teachers and is being dealt with properly.
"But why was it brought into the school in the first place, and what for?
"I'm sure both parents and teachers will be concerned by this and the police will do a thorough investigation, but we need to find out who they were intended for.
"I'm sure Fraserburgh Academy is no different from anywhere else, but this will set alarm bells ringing."
Inspector Colin Taylor said: "Police were made aware on Friday of a small package suspected to contain drugs recovered at Fraserburgh Academy.
"Inquiries are ongoing to establish if it is a controlled substance."
He added officers regularly offered advice to schools about drugs and their consequences.
An Aberdeenshire Council spokesman said: "We can confirm that we have reported the discovery of a bag of powder to Police Scotland and support their investigation into the matter.
"We will liaise with pupils and family if required.
"As there is currently a police investigation being carried out it would be inappropriate to comment further."