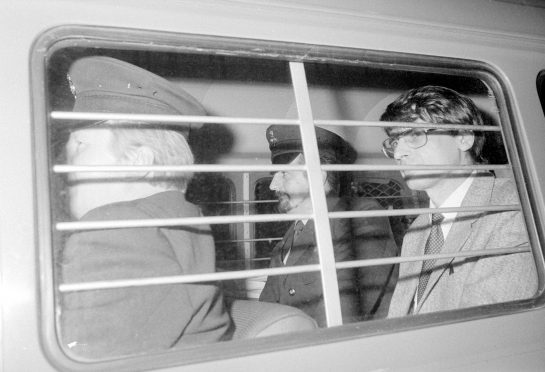 One of the UK's most notorious serial killers has died behind bars at the age of 72.
Fraserburgh-born Dennis Nilsen was confirmed dead over the weekend by the prison service.
He was 34 years into a life sentence at HMP Full Sutton, handed down to him for the murder of at least 12 people.
The one-time army soldier, who moved from nearby Strichen to London in the 1970s, became known as the Muswell Hill Murderer for his horrific crimes which shocked the nation.
And although never proven, the killer is thought to have committed as much as 15 murders against young men while he lived in England.
After luring them to their death, he would sit with them for days before hacking at their bodies.
He was only caught out by the police when neighbours – and he – complained of blocked plumbing in his building and a workman was sent to investigate.
Unwittingly, Nilsen had caused the blockage himself by flushing the bones and flesh of his victims down the toilet.
He was jailed for life on six counts of murder and two of attempted murder in 1983.
Last night, a spokesman for the prison service said an investigation would now take place to determine the cause of death.
In the years since his incarceration, Nilsen gave several interviews to the press.
In one which aired in 1993, the deviant detailed how he "enjoyed" caring for the dead bodies of the men he killed, including dressing and undressing them and how he defiled their bodies.
While some remains were flushed away by Nilsen, others were stored under his floorboards and in cupboards for months.
And when police raided his home they were greeted by the smell of decay.
He said: "The bodies are all gone. There is nothing left. But I still feel a spiritual communion with these people."
The Press and Journal also got an exclusive insight into Nilsen's thoughts, after our features writer Cheryl Livingstone began writing to him.
Over a period of several months, they exchanged letters.
Ms Livingstone wrote to Nilsen in 2016 to ask why he had committed the crimes and his thoughts of dying in prison.
Many of her questions went without answer.
"I am now 70 years old, not on any medication and in good health in spite of the fact that I have been a smoker since the age of 15," he told her in a written reply.
He also told her had written an 8,000 page autobiography which has never been published and that he would never challenge his sentence.
Nilsen explained: "I owe it to my victims and to justice to serve out whatever time has been allocated to me."
In another, he said he tried to live a "good and useful life" behind bars.
"I soldier on as best I can," he said.
His former home at Musewll Hill has been on the market several times since he last stepped foot in the flat.
Each time, buyers are warned of the history's gruesome past.
Despite this, it is still occupied today and flowers are visible in its attic window.
The sentence handed to Nilsen in the 80s was upgraded to a whole-life tariff in 1994 by then-Home Secretary Michael Howard.
Why I wrote to serial killer Dennis Nilsen
When The Press and Journal's features writer Cheryl Livingstone wrote to Dennis Nilsen in 2016, she was looking for answers about why he had committed his crimes.
What she got back was a series of letters without an answer.
Nilsen wrote each of his letters to her on a typewriter, correcting any mistakes he made in pen, before signing off each with "Des Nilsen" and his residence – B Wing.
The killer had been locked up there after moving to HMP Full Sutton in 2003, where he spent his days reading and writing.
"His first letter was fairly guarded and short in comparison to later correspondence," Ms Livingstone said.
"But he still decided to share some information with me.
"He chose what topics he wanted to cover – completely ignoring questions that he did not want to answer.
"In some, he was succinct and well-spoken, revealing himself to be quite an intelligent man. In others, there was large sections that were completely incomprehensible, resembling more an extract from a poem.
"I think these sections were to show how cultured and intellectual he is – he also spoke about his passions for writing and classical music – but really it made him appear confused and somewhat distracted."
When correspondence between them finally ended, Ms Livingstone was left contemplating if the world would ever truly know why Nilsen, a boy who grew up in the tiny village of Strichen, committed the crimes he did.
She concluded that even he did not know why.
She said: "I wanted to know why he committed his crimes, how he felt about dying in prison and whether he regretted his life, among lots of other questions.
"I got explanations to most of what I asked him, but, the questions he left blank, I don't think even he knows the answers to them 30 years on."
Nilsen thought his autobiography would be released following his death
Before his death, Nilsen campaigned for a decade for the opportunity to tell his story in his own words.
And in letters to The Press and Journal, he forewarned the world that day could come when he dies.
His autobiography, which he completed behind bars, tells his story up to about 2010 and is held in an unknown location outwith the prison service.
He envisioned that it would be "something for the future" and probably be released after he is "pushing up the daisies".
Despite numerous books and even a feature film on his life, the killer never gave his own account of what went wrong.
Ultimately, he took the true answer as to why he committed his heinous crimes to the grave.
His autobiography is thought to hold the answers, however, but it has never been released.
Despite this, the work – dubbed History of a Drowning Boy – has been banned by the European Court of Human Rights and then-Home Secretary David Blunkett.
Supposedly leaked chapters have detailed his childhood in the north-east and the death of his grandfather, which he attempted to use as an excuse  to try and explain why he had killed.
In his correspondence with The Press and Journal, Nilsen described the autobiography as being 21 volumes long, including three books of poetry and tapes of his musical compositions and performances while in prison.
"My own activities in prison have been full and productive as befitting the Buchan work ethic," he told us.
"A man would find it difficult to understand and face the future until he is prepared to remember and understand his past."
He added: "My motivation was, at inception, that my record and view should be just one of many which would, in the fullness of time and distance, provide a more balancing set of evidences towards a better understanding of the subject," he said.
"It is more important for me that my primary evidence is preserved rather than a desire for urgent publication in book form. I am more inclined to see my work as a personal public record.
"I care not whether all or part of it is published today, tomorrow, or after I have vacated this life. I am not writing for material reward, more for moral and psychological release."