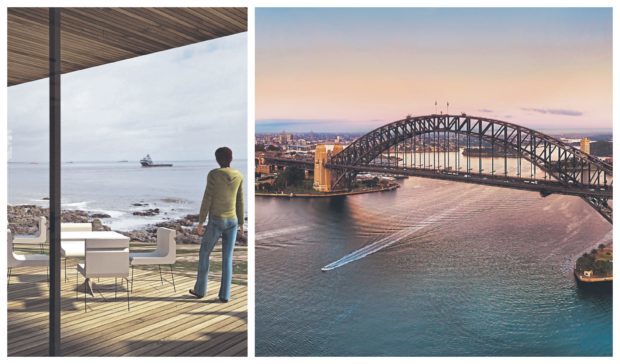 A detailed masterplan for the future of Aberdeen's beachfront could help the Granite City turn the tide and rival the likes of Barcelona, Helsinki and Nice, according to the boss of one of the region's most popular attractions.
Grahame Paterson, the CEO of the Transition Extreme sports centre, has outlined proposals to transform the waterfront into a "gateway" destination to attract more tourists and north-east locals alike as the local economy moves to expand from a "dependency" on oil and gas.
Mr Paterson said as work on the £1 billion city centre masterplan continues, Aberdeen beach deserves its very own equivalent to ensure the north-east can draw in as many visitors as possible and make the area a better place to live and work.
And Mr Paterson said the key to achieving this goal is an increased focus on adventure tourism, which he said would be in line with Visit Aberdeenshire's recently announced "destination strategy" to grow visitor spend in Aberdeenshire to £1 billion a year by 2023.
Transition Extreme, which opened in 2007 and boasts a skate park and climbing facilities, is currently preparing to reveal plans for a major expansion to what it offers visitors – and Mr Paterson said he hopes that vision could help encourage other businesses and investors to think again about the beachfront's potential.
He said: "At the end of the day the beachfront is in the city and, if you look at Nice, Barcelona, Helsinki and other places, the waterfront is a really important asset that makes those cities great places to work, live and visit.
"This is why we really need to work together and put together an integrated approach.
"If we really want to put together a comprehensive vision for the future of the city, we need to use all of its assets – and the beach area is without a doubt one of Aberdeen's greatest assets.
"We need to work together to create a true masterplan vision for how the beach will fit into and improve Aberdeen's future economy."
In addition to Transition Extreme's plans for expansion, a number of other projects are also in the pipeline for Aberdeen's waterfront areas.
The Greyhope Bay project on the southern side of the harbour at Torry Battery seeks to build a £10 million wildlife spotting centre to celebrate and highlight the city's famous dolphin population.
And bosses from the north-east business group Opportunity North East have recently put forward a vision for a boardwalk in the style of the New York High Line from the city centre to the beach.
Mr Paterson added: "Projects across the country like the Kelpies and the Eden Project have all done wonders to drive huge increases in tourism to local communities.
"Something similarly attractive would be transformational for Aberdeen.
"Adventure tourism in the north-east is going to be a really important part of our future economy as we diverge away from a dependency on oil and gas.
"We need to ask what we can bring to encourage that part of our economy's future to flourish and perhaps one way to achieve that could be an iconic visitor attraction like an adventure sports-focused complex that could act as a gateway to get more visitors to the beach area, Aberdeen and the rest of the north-east region.
"We contribute to the education, health and wellbeing of so many young people who use the facilities at Transition Extreme but, with adventure tourism on the rise, we want to help the city go after that and we really want to look at how best to transform the city's beachfront to encourage this kind of tourism for all of the benefits it can bring."
Chris Foy, the chief executive of Visit Aberdeenshire, said Aberdeen's sandy beaches make it unique among many UK cities.
He said: "The close proximity of the beach front to the city centre makes Aberdeen stand out compared to other UK city break destinations.
"The combination of one of the finest sandy beaches in the ocuntry with the extreme sports facilities at Transition Extreme, family fun-fair and recreational facilities overlooking the beach helps add to the rich and varied visitor experience."
A spokeswoman for the Aberdeen and Grampian Chamber of Commerce said there was still progress to be made to solidify the north-east economy and Aberdeen's shoreline has the potential to bring even more tourism to the region.
She said: "There is a significant amount of work being done by a range of public and private organisations across the region, and more than £9billion worth of investment being made into ensuring the north-east is a place where people want to live, work, study and visit but we are not the finished article yet.
"We are fortunate to have such a fantastic natural resource as the beach so close to our city centre, attracting locals, tourists and supporting a diverse range of businesses."
Grahame Paterson: Places like Sydney can show us what is possible
"The Aberdeen city beach is an area of undeniable natural beauty, attracting leisure and thrill seekers alike, come rain, hail or shine. It's currently a public space enjoyed by many, but it has the potential to be so much more.
The social, environmental and economic impacts of a well-designed city beachfront are proven, with multiple examples across the globe such as Barcelona, Bournemouth, Helsinki, Lisbon, Sydney and Baltimore. But, while the city centre masterplan is well under way, the equivalent for the Aberdeen beachfront has yet to be set in stone.
Central to developing such a plan should be a new perspective of the beachfront as a destination, as well as a public space, and how it links to its surrounding environment, including the city centre.
In relation to Visit Aberdeenshire's newly announced destination strategy, there is a great opportunity to link the city's beachfront thematically with the wider region by taking advantage of our strong position in adventure tourism and our remarkable offering in food and drink. This could open up the idea of an Extreme North that develops a cluster-model for adventure activities in the same way that has been successful in North Wales.
What we need is a city-wide movement to consider the beachfront and the potential it holds with fresh eyes. The Project for Public Spaces organisation describes an inclusive approach to developing an area: 'It takes a place to create a community and a community to create a place'.
There's evidence of this all around us. Aberdeen is experiencing a renaissance that has seen public engagement in place-making soar, from the development of the new AECC and harbour, the Merchant Quarter and Union Terrace Gardens, to the enthusiasm for transformative festivals like Nuart, Look Again and Spectra.
It's important we maintain that momentum to expand the city's offering to the thousands of tourists who will step off of cruise ships and onto North East soil in 2020. While Royal Deeside and the single malts of Speyside beckon, statistics show that a reasonable portion of these new visitors will choose to spend a day in the Granite City.
I believe Transition Extreme's soon to be launched future strategy, Pushing the Boundaries, has an important role to play in defining this future outlook. You may have noticed, or indeed know of, the curious cube set back from the city promenade, called Transition Extreme. While we are known by many in the charity, education and adventure communities, I'm not sure many people realise that behind the imposing walls lies one of Scotland's leading adventure centres. And crucially, an adrenaline focused social enterprise that has supported thousands of the region's young people by enabling positive transitions into adulthood over the past decade.
Transition has become part of the strategic fabric of youth development for the area as well as the leading adventure sports brand in the north-east, but like the region, we are focused on building the future. We will launch our vision and strategy in the coming months. You can expect to see plans for creating an adventure centre that will not only add to Aberdeen's offering as a great place to live, but paint a picture of a beachfront adventure destination that will attract people from far and wide.
At Transition our mantra is 'harnessing our energy to reach our potential'. And that's exactly what the beachfront needs. We look forward to engaging with the councils and organisations like Opportunity North East to do exactly that."