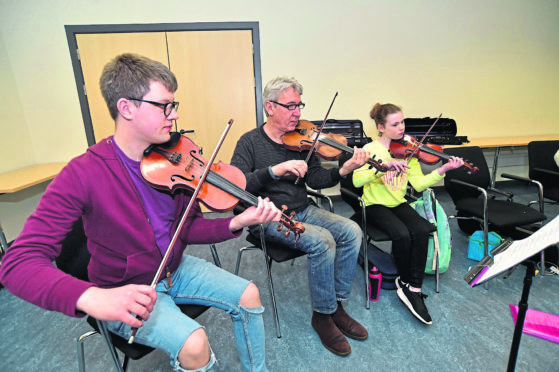 A week of free workshops to celebrate the launch of a creative arts organisation in the north-east starts on Monday.
The Royal Conservatoire of Scotland's North East Arts Hub is being delivered in partnership with Aberdeenshire Council and is supported by Creative Scotland.
It will be officially opened with a show named Rovin' Tales performed by the youngsters who take part in next week's creative workshops.
RCS principal Professor Jeffrey Sharkey said: "To celebrate the Hub's official launch, a free week of workshops will take place from August 6 to 10 at Fraserburgh Academy with courses available in traditional music, composition and sound production, drama and devising, film and a community choir.
"The Hub will put creativity at the heart of communities, where people of all ages can experience the power and transformative potential of the performing arts.
"We look forward to working with people across the north east and supporting them as they learn new skills or develop existing ones.
"It will be a pleasure to play a part in their creative journeys."
Jesse Paul, fair access manager at RCS, said: "The free week of workshops will give participants the opportunity to immerse themselves in one of several art forms – from  music and drama to sound production and filmmaking – where they'll receive expert tuition to develop their skills and confidence in a vibrant learning and teaching environment."
Councillor Anne Stirling, Aberdeenshire Council's communities committee chairwoman, said: "Aberdeenshire has a rich cultural heritage, so I am pleased the Rovin' Tales will help ensure these traditions carry on in the future.
"We are proud to be working with the Royal Conservatoire of Scotland on the North East Arts Hub, an exciting and innovative project, which will give young people fantastic experiences."
Rovin' Tales will be performed on Sunday, August 10 at Banff's Duff House and Macduff Arts Centre at 10.30am, Peterhead's Drummer's Corner at 1.30pm and Fraserburgh's Dalrymple Hall at 5.30pm.