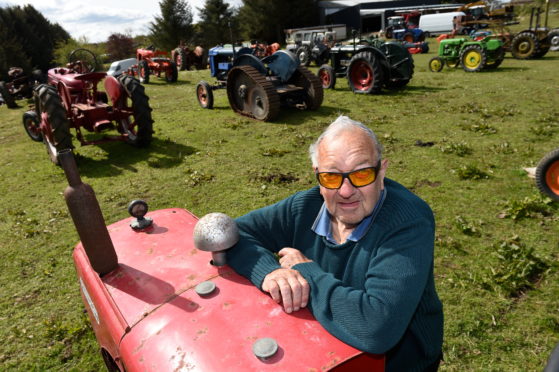 A retired mechanic who once owned Scotland's largest assortment of vintage tractors will auction off the last of his collection tomorrow.
Davie Reid spent about 30 years amassing machines of various ages on his land at Newmachar, in Aberdeenshire, and had to build four warehouses to accommodate them all.
The 80-year-old had 160 tractors at one time, but sold some last year and will offload his final vehicles tomorrow.
The last auction attracted enthusiasts from Thurso to Cornwall, and the pensioner expects an even greater turnout tomorrow as it will be the last chance for people to admire the remaining 60 all at the same time.
Mr Reid developed an interest in the machines while working on a farm as a youngster and has traversed the continent building up his collection over the years, once driving more than 2,000 miles to collect a tractor from Hanover.
But yesterday he said the time had come to "let other people enjoy them".
He added: "I want other people to get the same enjoyment as I have from being able to work with them, it gives you something to do and you can take them to shows.
"I want to give somebody else the pleasure of that.
"I sold the first half in September, and more than 500 people came along from places like Manchester, Cornwall and Thurso.
"But the best of the bunch are in this sale, and I expect a Renault PE tractor from 1922 to get quite a lot of interest."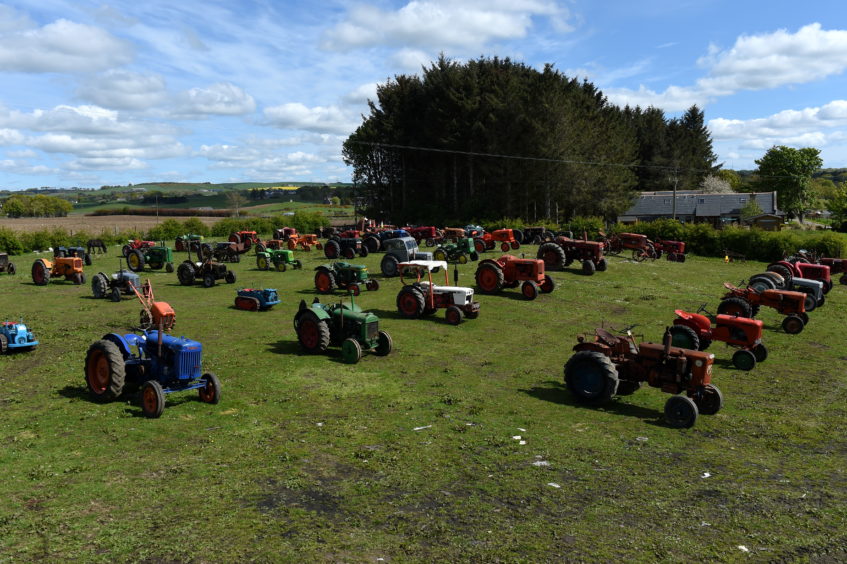 A tank-like Oliver HG Crawler, a Case Petrol Paraffin Tractor from 1938, a Swiss Biegel tractor and David Brown Cropmaster will also be going under the hammer.
Despite parting with his prize collection, the octogenarian plans to keep busy by building up his stock of vintage motorbikes instead.
On Sunday, he travelled to Inverness to buy a mint condition BSA Barracuda 250 motorcycle from 1954.
And he has no intention to sell one of his more curious collections – a stash of 3,000 milk bottles, many of which have been gathered from defunct dairies across the north-east.
Mr Reid added: "You've got to keep an interest in something, it keeps you going at my age.
"I like collecting things, whether it's motorbikes or milk bottles."
The auction will take place tomorrow at 10am at Gardiner's Croft, Newmachar, and there will be a viewing today from noon to 6pm.
A vintage Triumph motorcycle is also for sale along with curios like a butter churn, old petrol tins, fire extinguishers, a tin rocking horse, military helmets, an antique bayonet rifle and even a 6ft Bertie Butcher advertising statue.