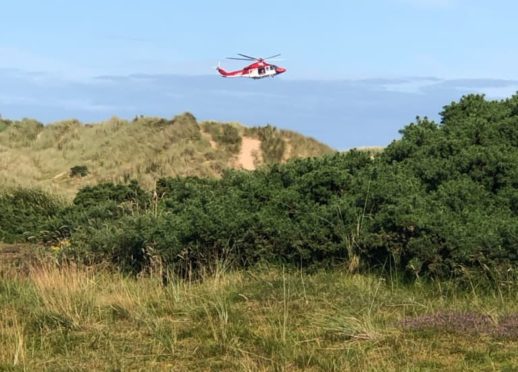 Three people had to be airlifted to hospital with hypothermia after they were caught in a current and swept out to sea.
An adult and child had been enjoying the hot weather, surfing at Balmedie Beach yesterday afternoon when they got into difficulty.
Bystanders on the shore raised the alarm, calling the police and coastguard who were rushed to the scene just after 3pm.
A member of the public also entered the water in an attempt to help.
All three were able to make it back to the coastline unaided but, as the emergency services were already on their way, they carried on their journey to the scene.
After arriving back on shore, they were taken to Aberdeen Royal Infirmary to be checked over.
It is not known if anyone was injured.
A coastguard spokeswoman said: "Coastguard Rescue Team was sent, along with RNLI Lifeboats from Aberdeen as well as Scottish Police.
"A Bond offshore helicopter was also sent.
"The two people in the water attempted to swim for the shore and a third person is thought to have entered the water from the shore to try and assist.
"The three people self-recovered to the shore."
Local councillor Paul Johnston said: "People have to be aware that swimming at Balmedie is only advised for those who know what they are doing as there is a cross undertow in the water.
"They can stay safe by going paddling, but only up to their waist and never further.
"There are strong tides there, and that is true for a lot of the coast in the north-east."
He added: "Balmedie Beach is a great place to go and is perfectly safe as long as people treat the water with due respect because it can be quite powerful."
Last week the RNLI launched a new safety campaign to keep people from getting into trouble at sea when using inflatables.
It warned that people should only use them in swimming pools, rather than on the coast.
Coastguard coastal operations area commander Ross Greenhill said: "If you do see someone in trouble at the beach call 999 and ask for Coastguard.
"Always remember to check the tide times and the weather forecast when spending time on the coast."