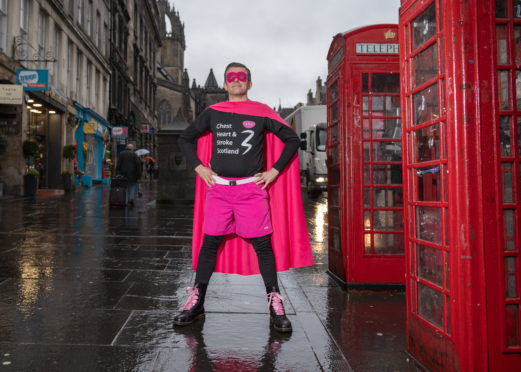 Lawrence Cowan will be dressing up in a specially-designed superhero outfit to raise money to combat Chronic obstructive pulmonary disease.
The 34-year-old plans to don cape and cowl on behalf of his dad, Richard, who was diagnosed with the incurable lung condition four years ago.
Currently there are 139,000 people in Scotland living with the COPD, which is the name for a group of lung conditions that cause breathing difficulties.
Mr Cowan who is the Director of communications at Chest Heart & Stroke Scotland will be wearing the outfit throughout the month as part of his #FundAHero fundraising challenge.
Richard Cowan, from Auchnagatt in Aberdeenshire, said: "My diagnosis was a bit of a surprise, but in a way it now means I get the support that I need to live my life as well as I can.
"Of course there are difficult days, but I focus on living and enjoying life.  My stage of the disease is manageable with the right information and support. That's why things like the Advice Line nurses are so important.
"For so many people COPD doesn't just take your breath away it takes your confidence and so much more."
His son added: "It's going to be strange wearing this outfit at meetings and down the shops, but hopefully it will get people's attention.
"My dad's the kindest and most encouraging man you'll ever meet, but the lung disease COPD is taking his breath away."
Anyone wishing to support the campaign should visit www.justgiving.com/fundahero.
Every £10 raised will fund a call to the charity's Advice Line nurses.