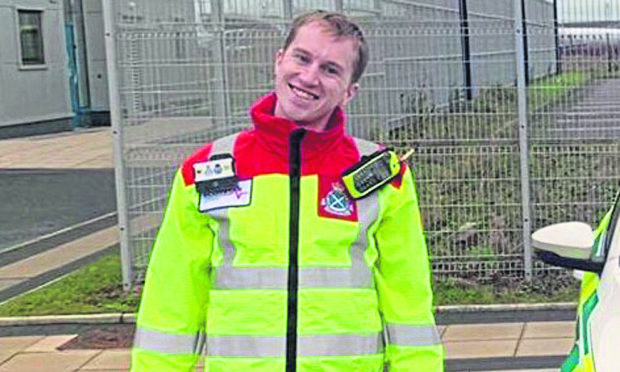 A north-east paramedic has been hailed a hero after saving a heart attack's victim life on a storm-battered plane bound for the Western Isles.
Chris Morrison, originally from Lewis but now living in Stonehaven, leapt into action when a fellow passenger suffered cardiac arrest and stopped breathing.
Iain Mackay's heart stopped beating as wild winds hammered Loganair LM155 flight from landing at Stornoway airport.
Passengers were told to be prepared for the plane to return to Inverness as the storm force winds made it hazardous to touch down on Tuesday afternoon.
A Loganair cabin crew member spotted 37-year-old Mr Mackay had become unresponsive.
Despite the plane rocking wildly in the turbulence, Aberdeen-based Mr Morrison started CPR in a desperate bid to bring him back to life.
Chris Morrison, who hails from Tong but works with the Scottish Ambulance Service at Dyce, said: "I dragged him out of his seat and onto the floor."
He cut off Mr Mackay's clothing and delivered a shock from the defibrillator provided by the stewardess.
"But he still didn't have a pulse so it was back on the chest doing CPR."
A nurse took over resuscitation for a spell when Mr Morrison, 28, rushed to the cockpit, requesting the pilot undertake an emergency landing immediately.
The Stonehaven resident said: "I went back and carried on CPR. Then an announcement came over the tannoy for all passengers to adopt the brace position as it was going to be a bumpy landing.
"Everyone buckled up but I continued resuscitation."
Anther passenger described how Mr Morris proceeded to deliver "several shocks" using a defibrillator, getting the casualty's heart beating again and stabilising his condition, whilst the pilots radioed for assistance to meet the flight.
The aircraft taxied to the airport fire station where an ambulance took the ill passenger to the Stornoway hospital three miles away.
Stornoway Coastguard helicopter later emergency airlifted Mr Mackay to Glasgow for specialist treatment where he is recovering from his ordeal.
A Loganair spokesman said: "Our first thoughts are with our passenger, whom we sincerely hope will recover from this major setback.
"We're proud of the way that our cabin crew member handled this challenging situation on board, and would like to extend our gratitude to her and the off-duty paramedic for their professionalism and timely assistance.
"Tuesday's events also have proven beyond all doubt that our choice to carry defibrillators on every Loganair aircraft was the right decision, although we trust that it will be quite some time before the need arises to use them again."