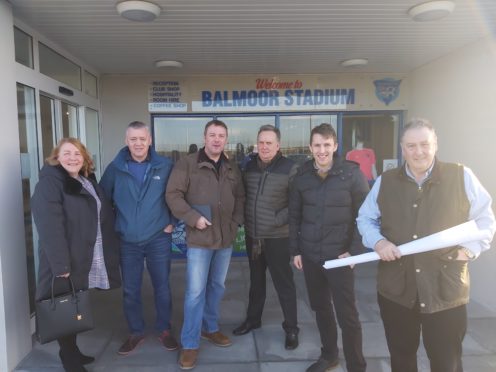 People in an Aberdeenshire village were celebrating last night after councillors knocked back unpopular plans to build 20 new homes next to their properties.
Residents of Newton Road in St Fergus said that unauthorised preliminary work at the site had already caused mounds of earth to be blown into their homes and gardens.
And they raised fears that the ARD Properties development would destroy their privacy, cause flooding and endanger their safety.
Five of the neighbours spoke out at the Buchan Area Committee meeting where the application was decided yesterday, pleading with councillors to consider how the scheme would impact their lives.
They each stated that they had no objections to the idea of development on the land, but opposed this particular scheme due to the raised level of the land – which would mean houses were built several feet higher than their garden fences.
Aberdeenshire Council's planning chiefs had also called for the plans to be rejected due to a number of design problems.
Officer Alan Davidson yesterday explained that a trench on the plot would alleviate some of the flooding worries, and said that concerns surrounding the new buildings overlooking houses on Newton Road only applied to some of the properties.
Peterhead and North Rattray councillor, Alan Buchan, made a motion to approve the plans in order to boost the village.
He said: "If we're going to grow a village and make it prosper, we need to build houses and a community which can be rejuvenated.
"If we stop building, it's a retrograde step."
His motion was only supported by Stephen Calder. The other eight committee members backed Peterhead South and Cruden councillor Stephen Smith in rejecting the proposal.
Mr Smith said: "We heard from residents, and no-one argued against the principle of development but that this particular plan is unsuitable for this site."
All councillors agreed they would like to see houses built there provided any plans submitted were "acceptable".
One of the residents, Stephen Baird, said: "I'm glad they understood that we never objected to the development – but we opposed the way it was done.
"It's a fair result and we're all very pleased."