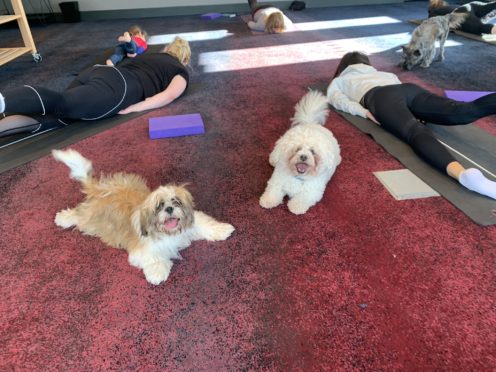 An Aberdeen yoga instructor has staged a class with a difference, raising money for a cat and dog home by getting people to bring along their four-legged friends.
Mhairi Thomson, from Make Time 4 Yoga, led the 45-minute class for five people and three dogs.
Among the participants sprawled across the floor stretching their limbs was Terrier-cross Dandy and Bo the Bichon Frise, who appeared to enjoy the experience.
The workshop was the first "doga" session to be held at the Aloft hotel, which was recently opened at the Teca complex beside the P&J Live arena, and offered staff the opportunity to relax and unwind with their pets.
Each attendee from the hotel team paid £10 to take part, with all proceeds donated to Mrs Murray's Cat and Dog Home.
The workshop focused on breathing techniques along with simple strength exercises and poses.
Mark Leyland, general manager of Aloft Aberdeen, said: "Mindfulness is really important to us and we aim to instill a positive attitude towards mental wellbeing for all of our people.
"Hosting a dog-friendly yoga workshop was a fun way to bring the team together.
"We are a pet-friendly hotel and are hoping to host a similar event in the near future for guests and members of the public to take part in."