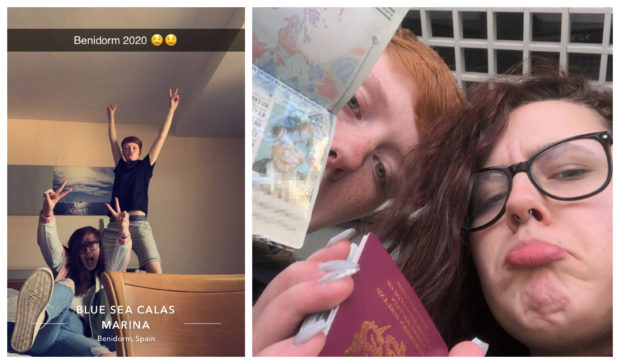 Holidaymakers have been left sick with worry amid a scramble to return to the UK from quarantined Spain.
To halt the spread of coronavirus, the country's government has imposed a strict nationwide lockdown, banning people from leaving home except for work, medical care or to buy food.
Airlines have scaled back flights to the popular holiday destination as a result of the Spanish state of alarm, and the UK Foreign Office has advised against "all but essential" travel there.
But a number of people who made the trip before the curfew was put in place are now scrambling to get home.
Two north-east teenagers are among them, due to fly back to Scotland with Ryanair on Thursday.
The Irish airline said it had been "forced to severely reduce" flights to Spain, the Balearic Islands and Canary Islands between midnight on Sunday until midnight on Thursday – and urged potentially stranded customers not to call.
It is understood hotels are to close at the stroke of midnight on Wednesday.
Kayleigh Quinn, from Banff, and her friend Ellie Wood, from Macduff, both recently turned 18, are there on their first holiday abroad without their parents.
"We need to find a way home as our hotel is closing down on Wednesday night," postal worker Miss Quinn said.
"Our flight home is meant to be on Thursday, if it isn't cancelled.
"As it stands, early that morning we will be kicked out and sitting in the street until our transfer to the airport hours later.
"Our families want us home but none of us can get hold of Ryanair."
The pair have been hoarded up in hotel room since the weekend, stuck on their phones and trying to work through a deluge of conflicting information online.
Miss Wood said: "It is just annoying we are not getting told anything.
"Ryanair and the hotel should be contacting us but instead it is people at home and our parents.
"We don't know what to believe."
Customer Notice: Ryanair Group reduces flights to/from Spain from Monday 16 March to Thursday 19 March.

All affected customers will receive an email notification informing them of their options: pic.twitter.com/0R1Ib65tKb

— Ryanair (@Ryanair) March 15, 2020
In a statement published online, a Ryanair spokesman said: "In response to the decision of the Spanish Government to 'lock down' the entire country to contain the spread of the Covid-19 virus, Ryanair has been forced to severely reduce flights to/from Spain.
"We are contacting all affected customers by email to advise them of their options and we urge customers not to call us.
"This is a fast-moving and complex situation and the safety and well-being of our people and customers is our main priority."
Follow below for the key coronavirus updates: