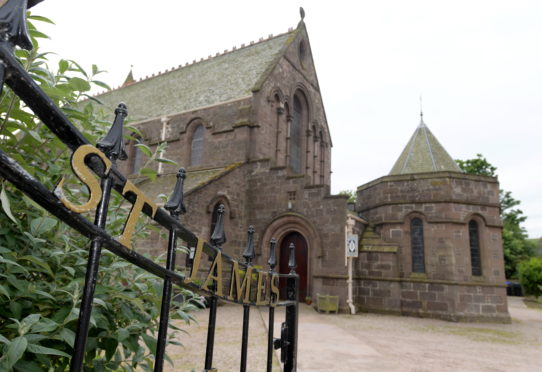 A north-east church is to undergo a series of "much needed" repairs and remedial works.
The category A-listed St James The Great Episcopal Church sits on Arbuthnott Street in Stonehaven and dates to the 19th Century.
Its condition has been deteriorating, however, and a variety of works are now needed to ensure St James' can continue for years to come.
Urgent roof repairs were carried out on the church in 2018, during which a beell dating back to 1788 was found.
Rotten and rusted through, it was restored alongside the roof following a community fundraising effort.
Now Aberdeenshire Council has approved listed building consent for a number of additional upgrades.
Under the plans, two gate pillars will be removed and rebuilt. They were damaged after reversing vehicles struck the stone structures, causing visible cracks.
The driveway into St James' will be resurfaced, a new mental fence erected and the church notice board will be re-positioned – all of which will result in additional pedestrian space for people walking into the church.
David Fleming, buildings convener and vestry member at the church said: "We're repairing the church yard, which probably hasn't been touched since the church was built, with the exception of putting some concrete down – and that concrete is now looking fairly yucky.
"We still have to find the funds for it, so it will be quite some time before work starts on anything, but it's nice that they've given approval.
"We'll be putting in a special surface that drains nicely, so we haven't got puddles everywhere like we have at the moment.
"That can be a problem, especially when it gets icy, and we have had a few accidents in the past with people slipping.
"We will be moving one of the gate posts because they are in a funny alignment.
"It might have been all right for a horse and carriage, but make for quite a tight squeeze for a modern car."
Mr Fleming added: "We are now planning on reopening the church following the changes in the government's restrictions, and we are going through the necessary precautionary measures to allow that to happen in the next few days.
"People will be welcome to come in for private prayer and anyone is welcome to come in and enjoy the beauty and the peace of the place."
Aberdeenshire Council approved the plans this week, saying: "The proposed works will ensure the special architectural interest of this A listed building and enable it to remain in active use."