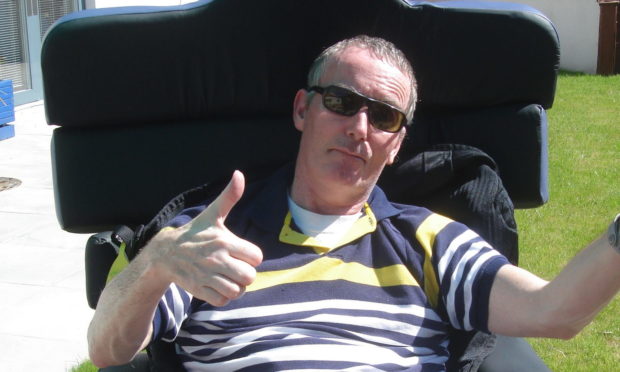 The family of a north-east resident at Scotland's only neurological care centre have praised the "amazing" staff for the care they have provided during the Covid-19 pandemic.
Duncan May moved into Sue Ryder Dee View Court in January, having lived with his parents since being diagnosed with multiple sclerosis when he was in his 20s.
Within a couple of months, however, lockdown restrictions meant that his family, from Newtonhill and Aberdeen, could no longer visit the facility in Kincorth.
While his sister, Catriona McAllister, admitted she was initially "terrified" by the prospect of him being isolated from his loved ones, she told the Press and Journal she had been overwhelmed by how the staff had responded.
Ms McAllister said: "We visited him almost daily to begin with and then Covid-19 was suddenly upon us and lockdown began.
"Initially, we were terrified for Duncan and the news headlines about the care home crisis were truly horrific.
"This obviously meant we were no longer able to visit Duncan and we had lots of questions.
"How would he cope? Would he be okay? Should we take him back home? Where would he be safest? These were all questions going through our heads.
"But our fears were lessened when were got to know of the proactive processes and procedures being implemented by the amazing team to ensure staff and residents were kept as safe as possible.
"More one-to-one sessions were introduced and we also got Duncan set up with an iPad.
"With the help of the staff, we can Facetime him whenever we want.
"At the beginning of lockdown, zoom calls were quickly introduced and we also received regular photos of Duncan sunning himself in the garden by email.
"All this has been a lifeline for us and helped my folks immensely."
Ms McAllister added: "This has been a testing and difficult time for everyone involved and we cannot praise the staff highly enough for the care and attention, which they have shown not only to Duncan and the other residents, but to us, the relatives who are on the outside and who feel so helpless.
"To know our loved ones are treated like their own families means the world to us.
"A new 'normal' is starting to emerge, and for the first time since March, with the new guidelines, our dad has managed to see Duncan.
"Let's just hope it's not too long until mum and me can visit too and we can all have a long overdue beer or even get to a Dons match."
Valerie Maxwell, the centre director at Dee View Court, said lockdown had posed challenges, but she was proud of how the staff had dealt with them.
She said: "The pandemic has meant we've had to rethink many of our procedures and ways of working to ensure we continue to provide the best care for our residents.
"All of our staff members have been nothing short of amazing. They have put aside their own personal worries and continued to adapt to the new ways of working to ensure the health and wellbeing of all of our residents.
"While visitors were unable to come into the centre, the team did everything possible to ensure contact with families was maintained."
The centre has recently been boosted by a major expansion, following a multi-million-pound capital appeal to help more patients with a range of neurological conditions.