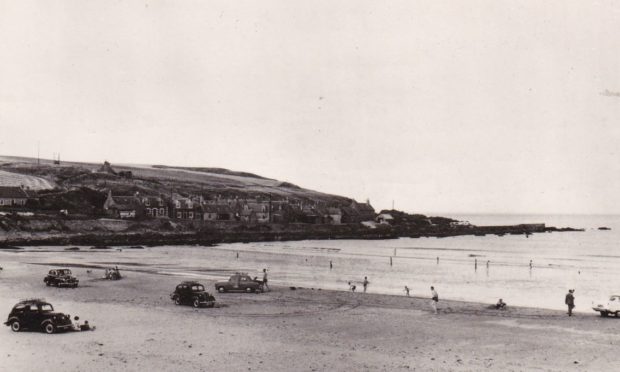 There is a rich history of storytelling in the north-east, a pastime which goes far beyond tradition.
It is a means of keeping history alive, of cementing who we are and where we have come from.
It is not the ruins of historic buildings that move us, so much as the tales of the inhabitants who lived within.
Their names, who they loved and what faded away within the crumbled walls.
Storytelling is particularly prominent within fishing communities, but the true memories exist only in the minds of the older generation.
The old fishing village of Sandend can be found between Portsoy and Cullen on the Moray coast.
Known locally as Sanine, buildings can still be found from wartime sea defences, although the current harbour was constructed in the 1800s.
The magnificent sandy beach is still popular with tourists and surfers – it was once the ultimate holiday destination, and home to generations of fishing families.
Perhaps a victim of its own success, one by one, residents moved out and rented their properties to tourists.
These days, you'll struggle to find a single light flickering in the village during the winter months.
But if you listen carefully, you'll hear a determined voice on the sea breeze.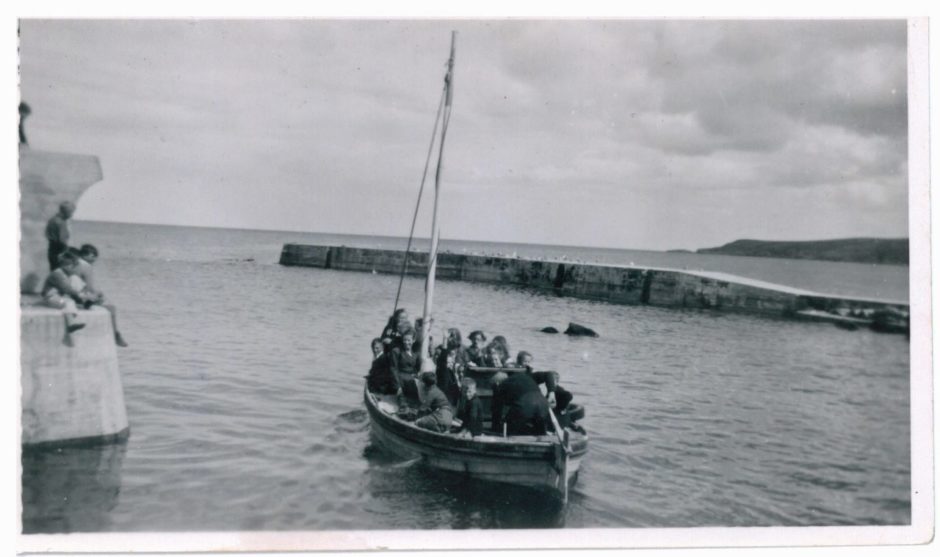 This tiny community came together two years ago to fight against a proposed windfarm development.
Giant cables from the Moray West Offshore Windfarm were set to rip through the beloved beach, until the project was relocated farther up the coast.
Something perhaps far more significant was born from the Save Our Sandend campaign, and it continues to flourish today.
For as residents old and young created a dossier of evidence, stories emerged.
Tiny shreds of half-formed memories, tales passed on about renowned locals who had once been as much a part of Sandend as the constant tides.
Forgotten black and white photos show women mending nets, their pinnies pristine and hair neatly waved.
There was the formidable Nell Middleton, who ran the village with a steely will and fierce sense of humour.
Sandend Heritage Group was formed in a bid to capture these memories, so the lives of those who had once made a living on the shore will never be washed away.
If we do not ask questions or make a record of generations gone by, our past stands to be lost.
This is certainly the thinking of Dr Sue Morrison, who is a heritage consultant specialising in oral history.
Although Sue lives in East Kilbride, her imagination has been captured by Sandend – or rather the people who resided there.
She was working in Macduff when a friend asked for Sue's help in the campaign, and she had no idea of the treasure she would gradually unearth.
"I visited Sandend a few years ago now, when there was a huge focus on saving the beach," said Sue.
"I got involved and ended up interviewing five people. They were all talking about the beach.
"As the interviews progressed, there were so many more stories that were hinted and alluded to.
"It occurred to us all really that we needed to do a project.
"Sandend is known for fishing, tourism and the distillery in the old days.
"As an oral historian, it is the people who I'm really passionate about. Through talking to people, they were able to tell me about their memories going back to the Second World War.
"But due to age, you have to consider the fact they are not going to be around forever to tell their stories.
"I remember when my gran passed away, there were so many stories that she had hinted at. She lived through the miners' strike – I'm from Yorkshire originally.
"But I was young and not particularly interested. I wish I had asked more questions."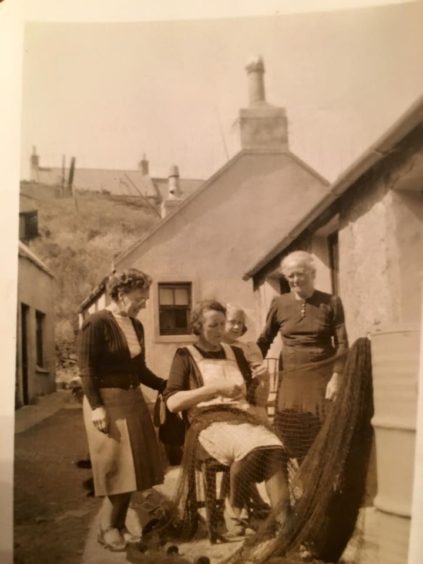 The pandemic means there has been a delay in getting the group up and running, and there are currently five volunteers gathering information.
"The north-east was once full of fishing villages, but very little of the history has been recorded," said Sue.
"Everyone knows the overarching stories, we don't have any fresh information.
"This is where the stories come in, as you can only learn so much by looking at the history books and archives.
"What we want to learn is what it was like to live in Sandend, both through times of prosperity and during the fishing decline.
"It was a buzzing village in the 1960s and '70s, and the way of life had changed completely.
"If we don't catch that history now, it will be lost.
"We're looking at old photos and asking, who were those people? What house was that? Who owned it? What were their jobs?
"We can illuminate different aspects of village life, and put the jigsaw together.
"We are not going to complete it. The more pieces we get, the more we can visualise and understand.
"We know making a living from the sea was hard and dangerous, and fairly traumatic for the women.
"Life at Sandend could be so cold and harsh, but they made the most of it.
"The inside of the houses were immaculate. We know women washed their doorsteps on their knees with a scrubbing brush.
"They took so much pride, even though they didn't have much."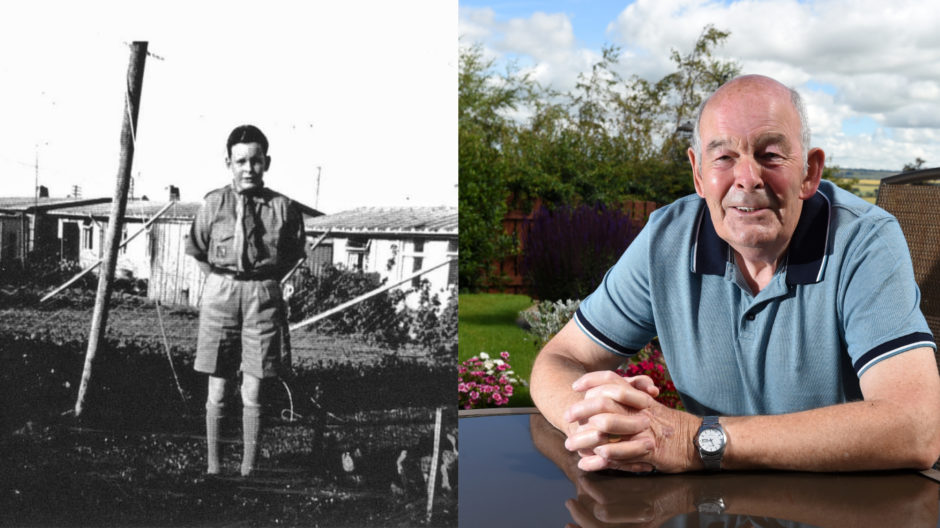 Alex Smith has played a huge role in helping the picture become clearer.
The 72-year-old was born in Sandend in 1948, and took part in the original interviews as part of the campaign.
He can recall visiting his grandparents in the village "where everyone was related".
Now living in Inverurie, Alex still returns to childhood haunts.
"My parents were born at Sandend, as were their parents, etc," he said.
"I think I can trace the generations to the late 1700s.
"My dad was called Joe, he was a fisherman. When I was young, he fished for herring which took him anywhere from Shetland to Great Yarmouth.
"That came to an end in the 1950s, so he started fishing out of Peterhead or Buckie.
"My mother, Ella, kept the home and raised me and little sister Diane. But when I look at my great grandparents, the women prepared the fishing nets."
Alex and his family lived in what was known as a prefab, a pre-fabricated two-bedroom home – which was meant to be temporary accommodation.
"I was the first boy born into a prefab, they were these little bungalows which were built after the war," he said.
"They were only meant to be temporary houses, but they didn't get pulled down until the '70s.
"They came complete with a fridge and a cooker, everything was built in.
"I enjoyed growing up at Sandend, playing on the beach with all the other kids.
"We had great fun when there was snow, but it could get wild in the winter.
"In 1953, there was a bad storm, all the stones and boulders were thrown up over the road.
"I can still picture the baker, with a big board with bread on it, trying to walk across because he couldn't come down with the van. He used to come from Portsoy.
"We had three main shops, which were grocers and a post office."
There was no secondary school in the village, and the primary school is now part of a caravan site.
Despite his family history, Alex decided to leave fishing behind.
"I was 15 when I left school, I moved from Sandend to Dyce," he said.
"I moved into lodgings and started as an apprentice electrician.
"I never had any wish to go into fishing. It was a hard life, no doubt about it."
Alex's parents remained in Sandend, and his mother moved to a care home only last year.
"It's totally different now," he said.
"When I was young, all the houses down the village were overflowing with people.
"Now there are two or three full-time residents, the rest is a ghost town.
"Everyone who stayed in those houses originally, they moved out because they wanted a bigger, more modern house.
"So if those properties weren't holiday homes, they would be crumbling and derelict.
"I think that it's important to keep a record of how things were, how hard the life was.
"It's almost impossible to believe that they built the harbour and huge ships, but they did.
"I'm always going through old newspapers, keeping things that other people would throw away.
"My grandparents married in 1921; the groom purchased the living room furniture which was an armchair, and the bride paid for the bedroom furniture. I still have the receipts.
"It matters so much, to know who they were and how they lived at Sandend."
George Farmer has lived in Sandend for eight years, after retiring as a steel erector. He is chairman of the Sandend Heritage Group, and hopes more people will come forward with their memories.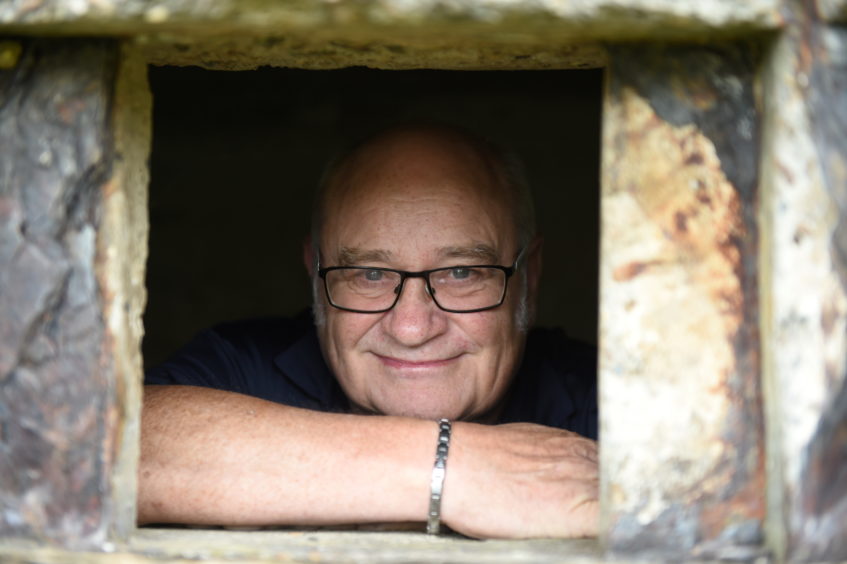 "We want to record the history so it's there for everyone to see, for future generations," said George.
For a lot of people, although they may not live here, they had family here years and years ago.
"My wife used to go on holiday to Sandend. We know fragments of memories are in existence for a lot of people.
"If you have any information, any photographs that relate to Sandend, we'd love to know more."
Sandend Heritage Group is calling on volunteers, researchers, artists, filmmakers, photographers, and funders to become involved – with oral history training given if needed.
To get in touch with information or to participate, email sandendheritagegroup@outlook.com or sue@suemorrison.co.uk