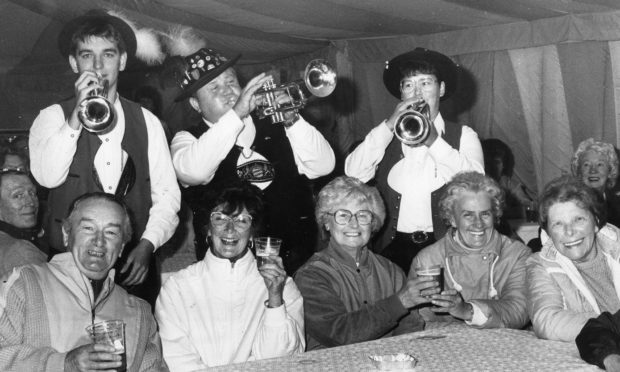 In 1981, youngsters from 16 "foreign lands" headed to Seaton Park to share one message: "Football can be fun".
That slogan – in the form of a somewhat back-handed compliment – was the basis for the Aberdeen International Football Festival (AIFF), which attracted players from across the world for a week-long competition.
Among them were teams from a number of Aberdeen's twinned cities – including Regensburg in Germany, and, later, Gomel in Belarus and Bulawayo in Zimbabwe.
They headed to the north-east from Canada, Norway, Morocco, Ghana and Lagos over the course of its 30 instalments.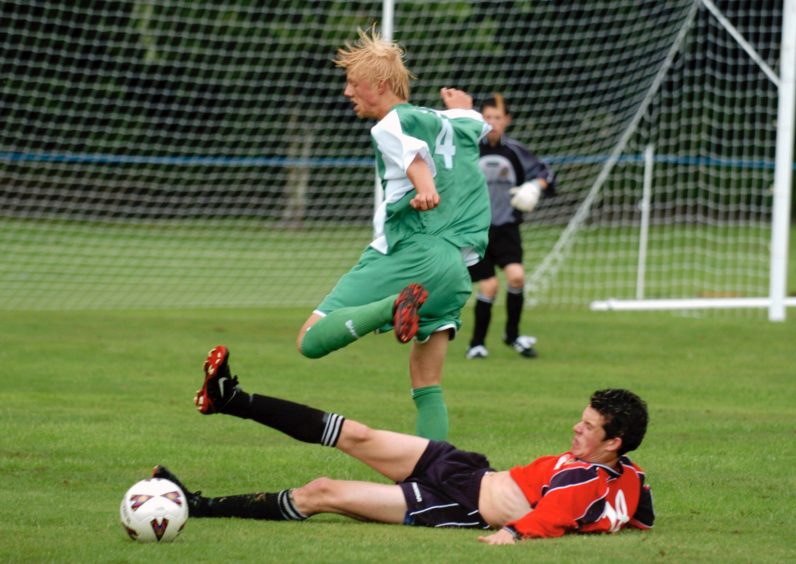 Football commentator Dave Macdermid, who was heavily involved in running the event from the mid-90s until it came to a close in 2010, said: "It was always the most enjoyable week of the summer for me and we used to get really good crowds coming along.
"My job was helping with the publicity and announcing – I had a seat where I could see all four pitches in Seaton Park at the same time.
"Altogether there were about 12 of us on the organising committee and every year it was a real labour of love.
"It was a really fun thing to be involved with but unfortunately, like so many other things, it fell by the wayside not long after the 2008 financial crisis."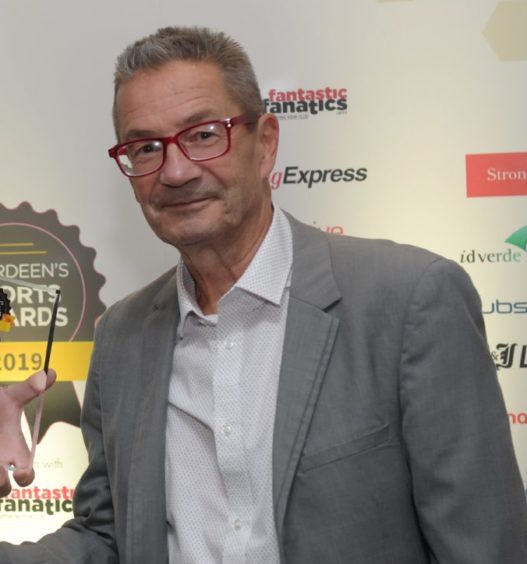 While AIFF would always crown winners for its various age groups, organisers were keen to promote "fun and sportsmanship" over the competitive elements.
In doing so, they also treated youngsters to the likes of penalty shoot-outs, ten-pin bowling and crazy golf.
And they were able to get a taste of Aberdeen life as well – in more ways than one.
Players and their families were offered visits to Pittodrie Stadium, tours of the city and trips to Royal Deeside.
There were plenty of opportunities to experience the Granite City's notorious changeable weather too.
Despite taking place at the height of summer every year, some festivals ended up awash with thick mud and rain.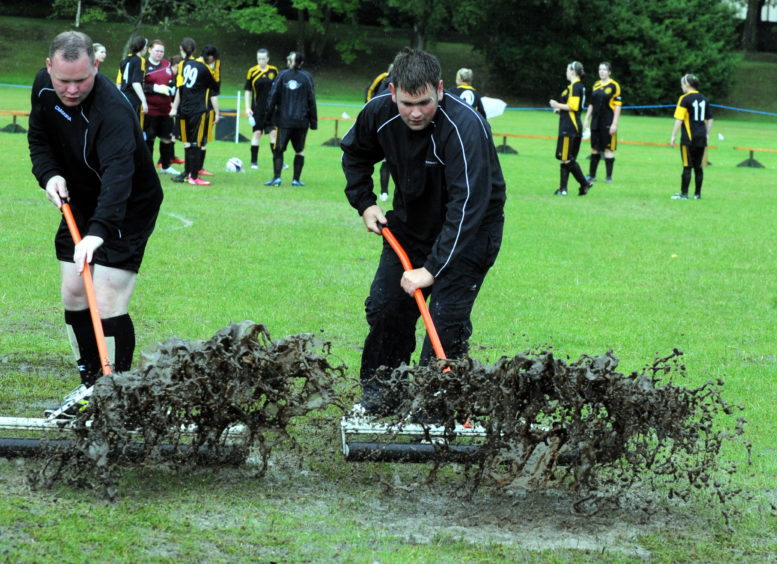 In 2009, there was a massive effort involving match referee Brian Braidwood and Aberdeen FC groundskeeper Neill Kitchener to clear water from the pitch and enable East End Girls under-15s to face-off against SC Regensburg.
Mr Macdermid said: "In the early days, the festival was funded by the council because they could see the economic benefits of it.
"It wasn't just the teams coming to Aberdeen, but their families as well – they would come and put money back into the city.
"It was a very friendly atmosphere and very enjoyable."
AIFF's popularity grew over the years, with domestic sides and international teams clamouring for places in the competition.
Youth outfits from the likes of Celtic and Dundee United began taking part, as did squads from as far afield as Australia and Hawaii – who sent the intimidating Wailuka Bruisers in 1991.
"I would say almost every country was represented at AIFF at one time or another," Mr Macdermid said.
"It really was a cosmopolitan, global event.
"Lots of long-term friendships were made between teams and players from different countries.
"But in the later years, when we moved to Aberdeen Sports Village, it became a bit of a struggle to get the same teams from abroad that we used to.
"They just didn't have the budgets any more."
As well as promoting fun and friendship, AIFF acted as a proving ground for young players ready to demonstrate they could perform at the next level.
It was also often attended by footballing scouts, looking for the game's next big thing.
Paul "Gazza" Gascoigne, Gary Mackay-Steven and Scotland vice-captain Kim Little were just some of the stars-in-the-making to lace up their boots for the event – unaware at that point they would later become household names.
Mr Macdermid said: "Even from the beginning we made sure to have a girls' section – so the festival was probably ahead of its time.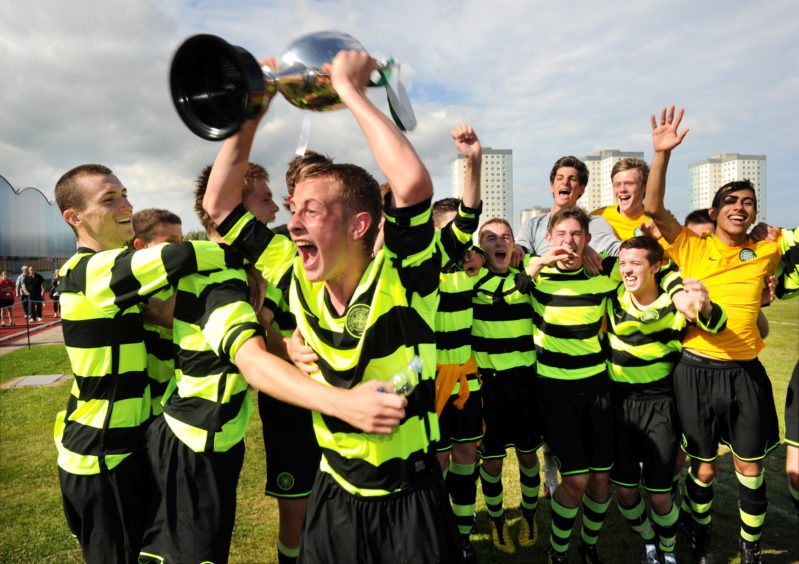 "The best thing for me was getting to watch players from other countries who were really technical – much better than their Scottish equivalents.
"I'd be amazed if some of them weren't playing professionally now."
Interest in the festival continued right through to 2010 – the final year it was hosted before running into funding difficulties – with competition staples Regensburg and Gomel ever-present among the competitors.
---
Aberdeen's link with Regensburg has lasted decades
It was a friendship sealed with beer and sausage – and one which endures to this day.
In 1955, Aberdeen's deputy director of education and the headmaster of Robert Gordon's College travelled to Bavaria for what was described as a "goodwill mission".
Their aim was to spend fourteen days talking with top teachers and lecturers in the Bavarian city of Regensburg in the hope of securing an educational exchange programme.
It went off without a hitch – and an official twinning agreement linking the two was signed.
In the years that followed, the relationship between the pair continued to grow, with multiple visits from civic leaders on both sides.
Aberdeen's Lord and Lady Provost flew over with gifts from the north-east, while they were treated to expertly-catered luncheons and even a visit to a historical sausage factory.
Proud of their efforts to expand the north-east's reputation overseas, civic leaders came up with an idea to celebrate this in the late 1960s.
Soon after, the annual Aberdeen Regensberg Week was founded – offering citizens the opportunities to hear German music and attend film screenings.
Fireworks celebrated Aberdeen's twinning with Regensburg in 1989.At the same time, young performers from the north-east headed overseas to share Scottish culture with a new audience.
Over the years, the festival grew more elaborate with the introduction of a "beer garden type of event" in Duthie Park.
Open every night, it served traditional beverages and offered live music from classical groups and The Edelweiss Oompah Band for people to waltz to.
This was not without its issues, of course, and last-minute disaster struck in 1974 when The P&J reported that "all was not well".
A report read: "The waitresses in the Bavarian-style bistro in Duthie Park are clad in trouser suits instead of Bavarian national costumes".
To the horror of planners, the authentic dresses which had been ordered from London had been lost in transit – leaving waiting staff to don "ordinary clothes".
Revellers seemed less troubled than this paper by the revelation, however, with the beer tent bringing in around 2,000 people each evening.
Other additions to the line-up included folk and ballet performances, fireworks displays and even a "conducted ramble" at Hill Of Fare in Banchory.
Regensburg Week continued as a staple in the city for decades and was one of the staples of Aberdeen's programme of annual summer events.
The shutters came down on the festival in 1994 when it was merged with a week-long carnival to mark the 200th anniversary of Union Street.
It did not return the following year.
Despite this, the city's links with Regensburg have remained strong.
Scores of students have participated in exchange programmes and keen runners have also been afforded the chance to participate in the Regensburg Marathon.
And in 2018, civic leaders visited Aberdeen to learn more about its Golden Games initiative, with a view to launching a similar version back home.