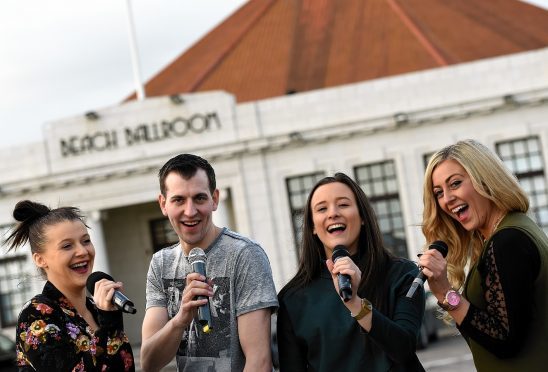 The musical line-up for a fashion show that celebrates inspirational north-east women has been unveiled.
Last night, cancer charity, Friends of Anchor, confirmed there will be two different line-ups at this year's Courage on the Catwalk, helping the event celebrate all things local when it hits Aberdeen's Beach Ballroom in May.
Six talented artists will accompany the stars of the Total E&P-sponsored show, which features 24 women who have all faced cancer, as they take to the catwalk.
Colin Newbury, Cameron Jay and David Flett will perform on May 7 while Megan Mackenzie, Rebecca Morrice and Paul Black will appear on May 8.
Singer Megan Mackenzie, 17, of Aberdeen, is delighted at the prospect.
She said: "It's exciting to be taking to the stage of one of Aberdeen's most successful fashion shows and it is such an honour to have the opportunity to support the event and cause."
David Flett, who has just launched a solo career after playing with The Big Show for 10 years, echoed that sentiment.
He said: "So many lives are affected by cancer and to be a part of the event, share the stage and play my music alongside such inspiring women to raise money and awareness is a real privilege."
Sarah-Jane Hogg, the charity's fundraising manager, said: "For the artists to gift us with their time and talents is a real testament to our models and the special nature of the event.
"Everyone is collectively playing their part to help make a difference for cancer care."
Now in its fourth year, Courage on the Catwalk has become one of the charity's most successful and inspiring events, raising £210,000 to date.
The majority of the funds have been invested in multiple cancer research projects at Aberdeen University and at the Anchor unit at Aberdeen Royal Infirmary.
Saturday's seats are already sold out but there are balcony tickets still available for the Sunday afternoon and evening shows.
To buy tickets please call the fundraising team on 01224 859170 or email foa@balmoral.co.uk