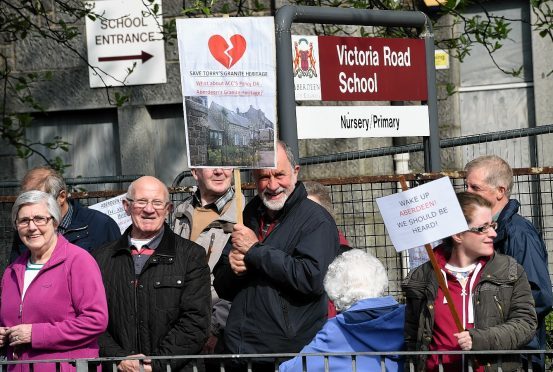 The decision by Barratt Homes to withdraw their plans to convert a former primary school in Aberdeen into 56 new homes was welcomed by objectors last night.
The proposal for the site of Victoria Road Primary School in Torry was launched in 2014, but met with 266 letters of objection.
Last month, a protest took place against councillors on the planning committee during a site visit and objectors made their view known at a public hearing.
And, after Aberdeen City Council recommended the application for refusal, it has now been withdrawn.
Douglas McLeod, regional director at Barratt Scotland, said: "We have withdrawn our planning application from the Victoria Road site and are now working with local planners and officials on a revised application."
David Fryer, secretary of Torry Community Council, claimed the scale of the protests had "rattled" the developers.
He said: "We are pleased and it's a result for the future of granite buildings in the city.
"It is interesting that they have backed down now, after the public hearing and the report recommending withdrawal.
"They are obviously rattled by the protest.
"We came out and showed passion and commitment to what we believe in, which is that the granite heritage of the city must be preserved. Once the buildings are demolished you can't reuse the granite.
"Even if the building is not used as a school, there are other uses, we should get architects in to look at these."
Dorothy Bothwell, a retired headteacher who went to Victoria Road Primary school two years after it was bombed during the blitz, also welcomed the decision.
She said: "I thought the depositions that were given at the meeting were impressive.
"I thought people really showed their passion about the fact that another valuable piece of history in Aberdeen was being consigned to the dustbin.
"The school was built by the Torry fisherman for the people of Torry.
"We should get the architects in and find out what we can do with the wonderful building.
"People are often dismissive of Torry, but the passion came out – 266 objections tells its own story."