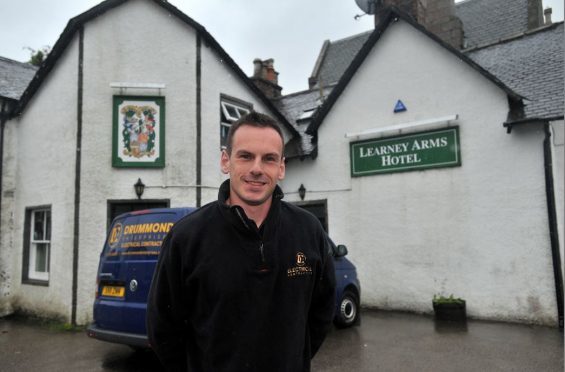 Plans to reopen an Aberdeenshire village's only pub as a new-look bar and brasserie have been backed by planners.
The B-listed Learney Arms in Torphins has lain empty for a year, but will now be revamped after Aberdeenshire Council gave the proposals consent.
The former hotel, restaurant and pub will be made into a home and flat, whilst the former bar section will be leased an eatery and bar run by local man Thomas Drummond, of Drummond Enterprises.
Last night he said the new-look Learney could be open late next month or October.
He said: "There is a few conditions in place that need to be met and we are trying to work through that first going ahead.
"I'm anticipating late September or early October for the opening, initially I'd hoped to be open by August."
Property developer Alex Shepherd is behind the development and plans to make the bulk of building his own family home.
Mr Shepherd said: "We are obviously delighted to get to this stage. There has been a lot of effort to get here. I think the planning application is a good one.
"Obviously I have leased the bar section to Mr Drummond and he has invested quite heavily in creating something quite different and completely new – a million miles way from what was there before.
"You can already see one or two cosmetic improvements to the front of the building, it already looks much improved. We'll just crack on now and do the refurbishment work."
The former bar will be stripped out and refitted in the coming weeks.
The Learney was closed last August, and hundreds of locals banded together to object to initial proposals to convert it into a home.
Mr Shepherd's initial application for a change of use for the site was refused by the council, having been deemed contrary to its business development policy and local development plan.
However the fresh plans have been supported by the local authority, the Torphins Community Council and many local residents.
It gave permission on the condition spaces for nine cars are made available at the Learney.