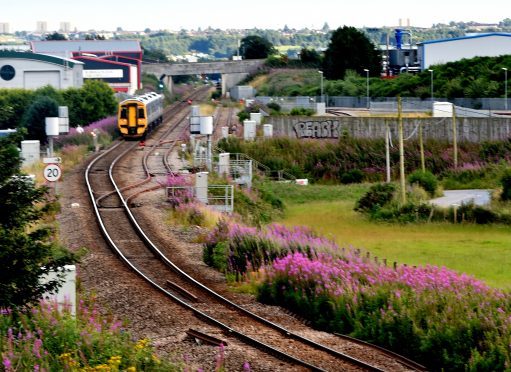 Council bosses have been told to draw up a feasibility study for their plans to create a rail link between Aberdeen city centre and the airport.
Council leader Jenny Laing last night hailed a meeting with Transport Scotland officials about the £70million vision as "productive".
The track which would also connect to the new Aberdeen Exhibition and Conference Centre at Bucksburn and include new stations at the airport and the AECC.
Mrs Laing said Transport Scotland had indicated they saw the "economic argument" for the project, while the body said they would like to see more details from the local authority.
The vote of confidence from the Labour-lead administration comes after their hopes to fund the link through a devolution of air passenger duty were dealt a blow by Holyrood last month when they announced they had "no plans" for such a move.
Opposition partieshave also been scathing of the plan, with the SNP's finance spokesman Graham Dickson previously calling the massive infrastructure project "economically unjustifiable".
A Transport Scotland spokeswoman said: "We can confirm our officials met with Aberdeen City Council to hear their proposals.
"As is normal in such circumstances, we have advised the promoters that they should complete the appropriate appraisal to allow proper consideration of the proposed schemes.
"Some early feasibility work may help to gain a better understanding of the various issues and we hope that the Council will consider taking forward this work."
Mrs Laing said: "We have had a very productive talks today with Transport Scotland where we told them a bit more for ideas about the link.
"We took a site visit with them and I think they can see the economic argument for a link of this kind.
"We will continue to look for ways to work with both Scottish and UK governments to make this become a reality."
Last night SNP group leader Stephen Flynn said without further details on the proposals there could be an "Edinburgh trams situation".
He said: "I think it comes as no surprise that Transport Scotland have asked for actual details on this project which we have been waiting for in vain."