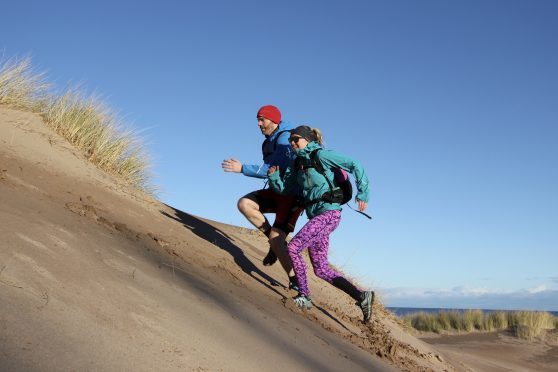 A couple from Stonehaven are attempting to make history when they take on a gruelling endurance challenge.
Luke and Hazel Robertson are attempting to become the first people ever to travel from the southern most point of Alaska to most northerly point using only their own power.
This amazing challenge, named Due North:Alaska, will see them travel 1900 miles.
The pair will kayak for 700 miles, cycle 650 miles and run 550 miles through Alaska.
The 80 day adventure, which begins on May 6, is one of the first challenges that Mr and Mrs Robertson are taking on since becoming explorers-in-residence with the Royal Scottish Geographical Society (RSGS).
Mr and Mrs Robertson, who both attended Mackie Academy but now live in Edinburgh, are following in some illustrious footsteps by working with RSGS.
Legendary explorers such as Sir Ernest Shackleton – who led three Antarctic expeditions in the early 20th century – and Edmund Hilary, who was one of the first two men to reach the summit of
Mount Everest in 1953, have worked with the society in the past.
Mr Robertson is looking forward to their Alaskan adventure and hopes to inspire other people while working with RSGS.
He said: "We are aiming to become the first people in history to travel from the very southern most point of Alaska to the most northern point which is quite a task but we are really excited about it and really looking forward to it.
"We're so excited about being able to create our own little part of history in partnership with such a distinguished association as RSGS.
"It's a great honour and we're following in the footsteps of some pretty illustrious explorers so we've got a lot to live up to.
"I want to try to inspire other people to discover the outdoors and push themselves to do whatever they want to with their lives."
Mrs Robertson added: "To be able to do Due North:Alaska and work with RSGS is amazing because there are so many centuries of explorers who have been involved with it.
"We really want to encourage the next generation to get outside because we're all explorers at heart and curious and want to know how the world works."